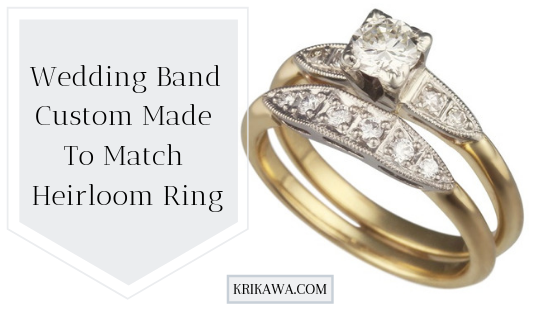 Wedding Band Custom Made To Match Heirloom Ring

LISA

What happens when you have a beautiful, heirloom engagement ring and would like to have a matching wedding band to make a complete bridal set? You cannot expect to walk into any jewelry store and find a perfect match. This was the case for a lovely couple who came to Krikawa for a custom wedding band to match an inherited, antique engagement ring. When asked the story of her engagement ring, this is what she said...

"So it's actually my grandmother's engagement ring. She gave it to my mom for me to have, one day when I was ready. I was in high school.

?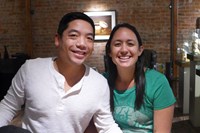 Dillon, my fiancé, was able to be covert and able to get the engagement ring from my mom without me knowing. My Aunt Mary drove it down to him for a surprise engagement in the Spring. And then we had a (wedding) band that was custom made here to match the (engagement) ring."
The Making of The Perfect Band
Measuring
To ensure the custom wedding band we were creating was a perfect match and fit for the original ring, we collected the engagement ring for measuring.

Restoration
Also, Krikawa's master jewelers performed an antique engagement ring restoration, to make it safe for another lifetime of wear. The old shank was cut off and replaced, the diamonds were tightened, the prongs rebuilt, and the millegraining was replaced.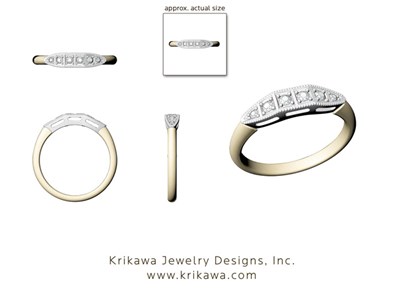 Computer Rendering
Before work on the wedding band could commence, a computer rendering was created to ensure the client was getting exactly what she wanted. From the 3D rendering, she could see the ring from various angles as well as see an approximate size of the final ring. After the final design was approved, the ring moved into production.
Production
The ring design was passed on to our talented master goldsmiths and they went to work. The band consists of two metals, a 14k yellow gold shank and a platinum head. Detailed millegraining was added to frame the head, matching the antique engagement ring.

A Beautiful Bridal Set
Once the wedding band was complete, it paired perfectly with the heirloom engagement ring. They looked like they had been a set from the beginning. The happy couple was able to bring a little new age technology and craftsmanship in the wedding band to the one-of-a-kind heirloom antique engagement ring that was so precious and sentimental to the future bride.
A Custom Wedding Band for YOUR Heirloom Engagement Ring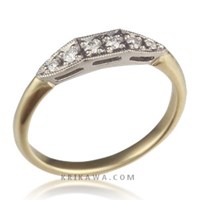 If you love this wedding band,
inquire about your own custom wedding band.

Interested in starting the process for YOUR custom vintage style wedding band, to match an heirloom antique engagement ring? Email a picture of your engagement ring to answers at krikawa dot com, or call us at 520-322-6090, and get ready to see your dream vintage bridal set come to life.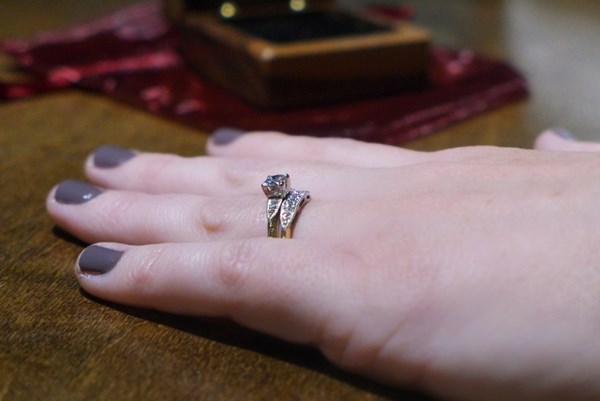 Look Around