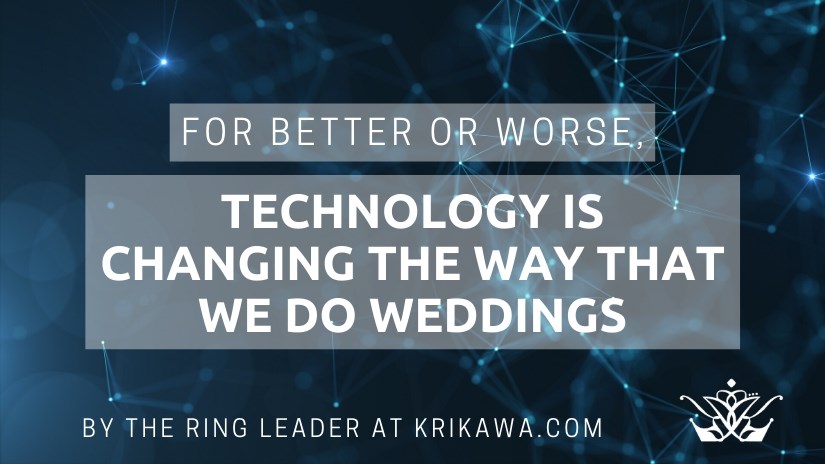 For Better or For Worse, Technology is Changing the Way That We Do Weddings

LISA
It's pretty safe to say that in today's world, almost everything we do is dependent on or influenced by technology. With our abundance of smartphones, computers, gadgets, and gizmos, we have grown accustomed to being connected to the rest of the world with the touch of a button. With that in mind, it's not surprising that the digital age has transformed almost every industry in the modern world. Weddings in particular present a large market for technology.

In a 2017 interview, Kelly Gould, editor in chief of wedding website The Knot, said that a third of all couples are now using tech in some way for their wedding day. This number is only expected to increase, partly due to the fact that more technology is introduced to the market all the time.

The problem with utilizing technology in the majority of your wedding activities is simple: tradition. Unfortunately, some traditionalists may have a problem with things being a bit different than what they're used to. Here are some of the latest technology innovations in the world of weddings and how your guests might view them.
Robotic Bartender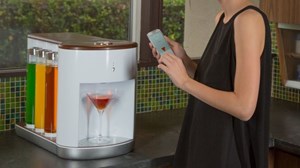 Who needs to go up and stand in line at a bar when you can have a robotic bartender join the fun? Somabar is a brand new invention that takes the wait out of getting the perfect drink. It's an app that allows the user to create and mix customized cocktails within a few seconds — the app is connected to a small device that you can place on every reception table. All you have to do is fill the machine before the reception, set up the app, and give your guests the go-ahead. The machine mixes the cocktails before dispensing, and water flushes after every drink is poured to ensure each drink is pure without any additional residue. You can even create a customized wedding drink to install in each machine!
What do the skeptics think? For some, open bars are all about the selection. While you can't get the same variety with the Somabar, there are options to create plenty of drinks that will make everyone's tastebuds happy.
3D Computer Modeling Ring Design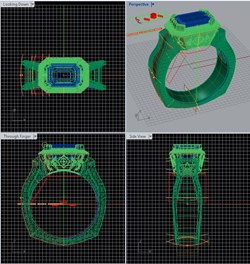 3D computer modeling and printing provides the technology to create a custom designed ring entirely from scratch. You will get a 3D computer model rendering, that shows the design from different angles, to make sure the ring is exactly what you want before you commit. Not only will you have an interesting story to tell, you'll have made an investment in something that will be around long after your wedding day. Plus, 3D design and printing technology ensures that your design will be unique down to the last detail. The best part? It couldn't be easier. If you haven't given a thought to creating a custom ring, you might want to look into it.
Many couples are thrilled to have a family heirloom engagement ring, but think they have to settle for an "off the rack" wedding band that sort of matches. A custom designed band paired with a precious and sentimental family ring will look like a matched set that belongs together forever.
What do the skeptics think? Some couples may dismiss this idea as being too complicated and expensive. Not so. You can schedule a consultation at no charge, get expert advice and support from concierge level designers who will help you actualize your custom ring. They'll work within your prescribed budget parameters, and make sure you get the exact ring that you want — the ring you'll wear forever.
Virtual Wedding Dress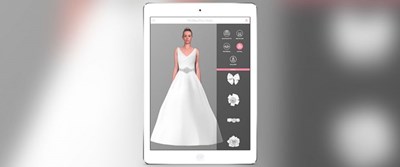 It's no secret that dress shopping is one of the most magical moments of wedding planning. But with so many options out there, it can be easy to feel overwhelmed and unsure in your quest for the perfect dress. But thanks to a new app, choosing a wedding dress couldn't be easier.
Wedding Dress Studio is a new app that makes choosing a gown easy-peasy — it offers different silhouettes, styles, and even fabrics so you can try on different options virtually before even stepping foot into the store. The app is designed to be used before your first consultation so you have a good grasp on exactly what you're looking for. The in-app images aren't actual dresses, but according to Hillary Sico, the executive director for Wedding Dress Studio, "they are simulated dresses that have similar real-life counterparts, but they are not images of actual dresses .... we have created the dress images to be as close to the real-life counterpart as possible." All the app needs is a full body photo and then it will help pick and choose different dress options until you find "the one."

What do the skeptics think? Traditionalists may believe that physically trying on dresses is the whole point of the shopping experience. Some people also feel that trying on dresses virtually may give people unrealistic expectations for a dress that may not necessarily exist. But nobody can argue the benefits of carefully considering the perfect dress before that first consultation.
LED Dress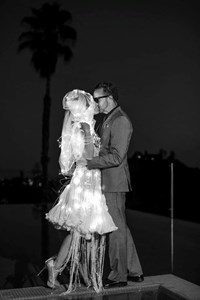 Traditional dresses have nothing on bright LED dresses! You can typically expect lace, jewel, or ruffle embellishments on wedding dresses, but now the word "embellishment" has a whole new meaning with LED dresses. These dresses are available in any length, size, and style, and feature bright lights sewn into them to really make the dress and its wearer the center of the show. They even can be customized with color-shifting LED lights, so you'll be able to match your bridal party in a flash.
What do the skeptics think? Of course, there are always going to be people who think the traditional wedding dress is to be white, frilly, and formal. But the beauty in these dresses lies in the fact that they can be easily customized or turned on and off. Say goodbye to the naysayers who have never seen an LED dress in action!

Live Streaming the Ceremony and Reception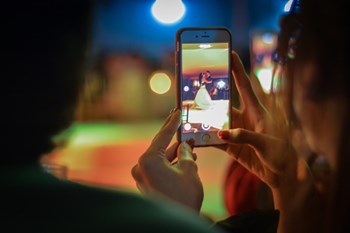 Social media features like Facebook Live and Instagram Live have made it incredibly easy to live stream a wedding celebration to additional guests. While this may not be included within the typical photographer or videographer's price, some couples have simply elected members of the wedding party to livestream their event. All they need is a good cellular connection and a great phone camera. Hit record and your wedding proceedings can be online in seconds.
What do the skeptics think? Couples choose to live stream their wedding as a way to allow loved ones who cannot make it to the event to watch everything that's happening. But some skeptics believe that doing so makes it quite impersonal, as anyone and everyone can watch. In addition, cost can play a factor. Less invested acquaintances may not choose to spend their time and money to attend a wedding and buy a gift when they could watch the festivities from the comfort of their own couch.
Wedding Projector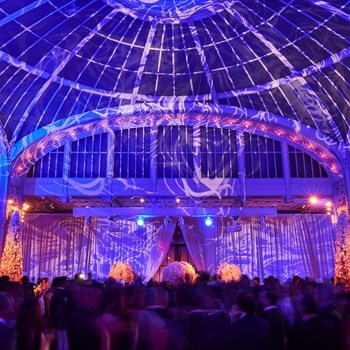 Worried about going too over the top with the expense of reception decorations? Look no further than wedding projectors. These clever devices can give you the best of both worlds by creating a beautiful environment in your venue without spending a small fortune on flowers, special lighting, etc. The versatility that comes with wedding projectors is huge: you can project your new last name, pictures of your love story, or flowers all around the room so you can spend a bit less at the florist. You can even project fairy lights, your favorite artwork, or your favorite theme onto a white wedding cake. Projectors allow you to effortlessly create any look you want, and with the added bonus of less cleanup at the end of the night.
What do the skeptics think? Some guests who aren't in tuned with technology can feel that a wedding projector will take the focal point away from the people who matter the most: the couple getting married. But the way we see it, this is your night. It's all about you in the first place!
Photography Drone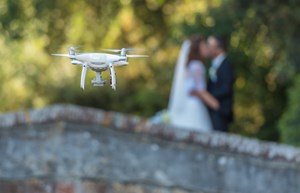 Years from now, some of the best memories you'll have from your wedding will be your pictures. And what better way to ensure you get the best shot than by using a photography drone? This piece of technology makes getting group photos and overhead shots of the venue easier than ever. The idea behind a drone is to get those interesting angles that a human photographer might not be able to reach. Best of all, a drone can help you remember every single detail and make every candid look perfectly planned. They can even capture video!
What do the skeptics think? Even though traditionalists may enjoy the standard posed group shots, these pictures are yours to cherish. But hiring out a drone doesn't necessarily mean ditching a traditional photographer, either. For most couples, it's possible to enlist the best of both worlds.
GoPro Photo Ops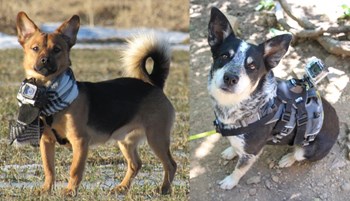 Just like the drone, a GoPro will be able to give you a ton of interesting photo ops during the day. A GoPro is a small camera that is easily attachable to anything and no matter how you use it, you'll be able to grab shots of your guests having a blast from all parts of the day. Ultimately this footage could be something that will keep you laughing for years to come. Some ideas for using a GoPro on your wedding day include:

Attaching it to a liquor bottle and having everyone take a swig throughout the night.
Creating a time-lapse video of the entire day from sunrise to sunset.
Putting it behind the officiant during the ceremony so you can see the reaction on your guests' faces when you finally say "I do."
Attaching a GoPro to your favorite four-legged friend so they can capture a video of the party from their unique point of view.
Placing it inside your limo for the ride to and from the ceremony.
Hiding it in a centerpiece or a bouquet.
What do the skeptics think? It can be easy to think that some people will spend too much time paying attention to the camera. But the beauty of the GoPro is that you can hide it wherever you want and you won't have to worry about fiddling around to get the "perfect" shot.
Wedding Veil Viewcam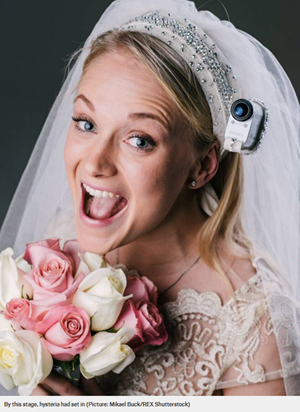 Your wedding is a big day, which makes it extremely easy to get caught up in all the festivities! But once the day is over, you may have some regrets about what you did or didn't do. Unfortunately, a wedding video might be one of those things. The fact is that most couples focus on their wedding photos and forgo video entirely. But some couples are figuring out an easy way to bypass the stress of ensuring their wedding is well-documented by attaching a small viewcam to a wedding dress or veil.
Electronics giant Sony spearheaded this trend by creating two distinctive handcrafted veils that come complete with a camera to capture a unique view of the ceremony. Have you ever wondered what the night has looked like from the married couple's point of view? Now is your chance to find out!
What do the skeptics think? Gaudy, in-your-face, and unfashionable are all words that come to mind when people think of these over-the-top headpieces. They're just not normal! Sony has created one that looks similar to a crown and one that has a camera attached to a headband. But hey, if you're getting married, you're allowed to wear whatever you want on your big day.
Ditch the Paper
Different technological innovations can help your wedding be a little more eco-friendly. In fact, there are plenty of different apps that can eradicate paper every step of the way. For example, you can create an electronic save the date or invitation that will go directly into your guest's inbox, and set up an online gift registration account for monetary gifts so you won't have to worry about misplacing a card or two during your reception.
But those aren't your only options. After the event itself, you can make writing dozens of thank you cards seamless by using a handwritten thank you notes app. The process is simple: choose the card you'd like, type your message, add a photo, and your message will be handwritten by a professional scriptist and sent within 24 business hours. Using this method eliminates all the hassle and cramped hands, but still gives each person an authentic thank you card for celebrating and sharing your big day with you and your spouse.
What do the skeptics think? It's easy to think that using technology will take the personalization out of your wedding invites and thank you cards. But since our world is constantly evolving to make room for more digital creations, this is only the next step. Plus, mother nature will thank you!
Live Texting at the Wedding
These can be especially fun for couples with larger wedding venues and more people in attendance. The idea behind a live texting screen is easy — either a DJ or the venue provides a large digital screen and they set up a phone number where guests can anonymously text in well wishes. Many couples elect to use this technology as a way to promote love on their happy day from people they may not be able to talk to as much during the festivities.
What do the skeptics think? As reported to Forbes, one newly married couple had their live texting screen backfire. Instead of sending heartwarming messages, some guests took advantage of the public platform to write hateful comments about other guests' appearance and outfits. Would you trust your guests to keep it positive?
The Social Media Hashtag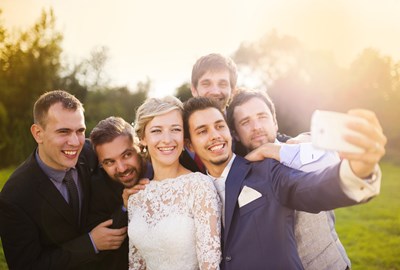 It is no secret that social media is everywhere. So it makes sense to take advantage of hashtags for your wedding. A hashtag can be used on multiple social media platforms — including Twitter, Facebook, and Instagram — and it's a great way for you to go back and see some snaps your guests took throughout the day instead of being inundated with text messages and pictures during your honeymoon. Hands down, a hashtag is the best way to find the best candids from your wedding. There's no such thing as too many wedding photos, after all! And who doesn't love a good wedding selfie or two?
What do the skeptics think? While everyone is in agreement that hashtags are great for organization, it's easy for them to be overused. And for some couples, phones can be banned entirely. They way they see it, it's important for people to simply enjoy the moment. After all, the couple didn't spend all this time and money planning a wedding for the guests to look at their screens all night.
Technology Charging Station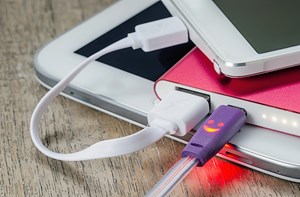 Since you'll likely be encouraging everyone to be on their phones snapping pictures of the big day, it only makes sense to offer a charging station to ensure no one runs out of battery. Plus, think of the hashtag! How will your guests be able to upload their pictures and add to the wedding hashtag if their phones lose power before dinner is served? You can easily bypass this by setting up portable charging stations all throughout your reception venue so no one has to deal with the dreaded low battery notification. Don't want them to stick out like a sore thumb? Choose neutral colors to blend with your decor or hide them in table centerpieces!
What do the skeptics think? There's something to say about living in the moment, and charging stations might give the opposite vibe. Some guests may think that providing chargers can give the impression you want people to be on their phones rather than paying attention to the celebration going on right in front of them.
3D Printed Wedding Cake Topper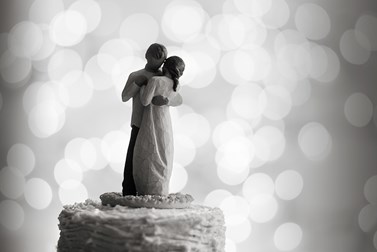 Everything about your wedding is super personalized, so why would your cake be any different? While deciding what to put on the top of your wedding cake is one of the smaller decisions of the planning process, there are still ways to make it memorable. One of the newest ways to do this involves creating a 3D printed wedding cake topper, which can take your sweet treat to the next level. In most cases, all you have to do is supply a headshot of yourself and your sweetheart to get a realistic miniature for your cake.
What do the skeptics think? It can be easy to go overboard with the personalization factor at your wedding, and some guests may think this is just too much. But why not take advantage of showing off that dress you'll only be able to wear once?
Depending on a couple's preferences, technology at a wedding can make or break the night. While it may be unrealistic to plan a wedding without technology, it's important to be clear with your guests about your expectations for those gadgets and gizmos. It is your wedding after all, and you get to call the shots!
But the question remains: what will your wedding hashtag be? Let's be honest, you probably already have one, right?
Look Around