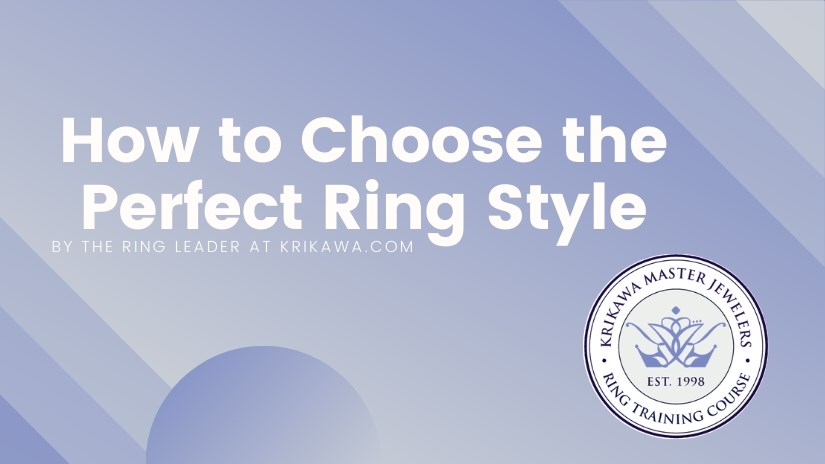 How to Choose the Perfect Ring Style

LISA

When it comes to selecting an engagement ring, commitment ring, or wedding rings, keep in mind that you are choosing rings meant to last a lifetime. So, a question we hear from both individuals and couples is this: How do I know the ring I choose now is one that I will WANT to wear for the rest of my life? With unlimited options available, deciding on a ring design for your engagement ring or wedding bands can be daunting indeed. Luckily, there is a tried and tested process to guide you down the path of choosing -- or creating -- the perfect ring for the most meaningful time in your life.



The first step in selecting an engagement ring you'll love is choosing a design category. The design category is intentionally broader than a "ring style, as "design category" refers to a "ring genre", rather than any particular "ring style". An experienced jeweler understands the difference. For instance, "halo" is a ring style and halo engagement rings can be seen across categories, from Vintage to Modern. Another style example is "solitaire engagement ring", which can be found throughout history and spans jewelry design categories from Rustic to Contemporary.

The key to narrowing your choice of ring genre starts with a simple task: Think about what you really like to look at! If you are exploring online, look at engagement rings in many different categories, and pay close attention to designs that hold your attention over and over again. Or, if you find yourself wavering between two categories (Modern with a Vintage feel), this can be very useful for a jewelry designer. And, let's not forget to weed out those designs that you consistently ignore or find unattractive. Both likes and dislikes can help a qualified custom ring designer narrow down the design elements that you'll love to look at over and over again.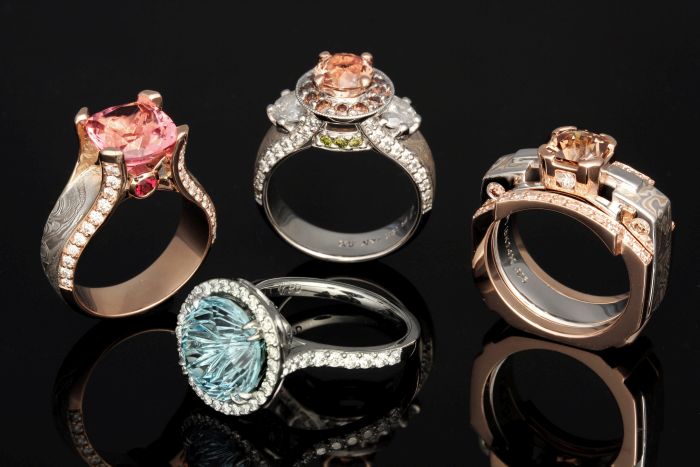 "Sam" was an engagement ring shopper unsure of which ring to choose or where to begin, and sent us an online inquiry. Sam didn't wear much jewelry--a necklace received from a grandparent and sometimes a wristwatch--and didn't want a ring that would attract attention or be too flashy. A self-described "bohemian", Sam liked loose, comfortable, and casual clothes, nothing stuffy. After showing several different rings in a screen-share appointment, and listening to feedback, Krikawa's design consultant presented elements of both Vintage and Rustic rings in the online design board.

The next step for Sam, and for anyone shopping for engagement or wedding rings, is to get in touch with your "personal aesthetic". Everyone has an aesthetic--even those of us who don't give style or fashion much thought. When you choose furniture or paint colors for your home, you are following your personal aesthetic. The most frequent aesthetic choice we make is what to wear--are there colors or styles you look (and feel) great wearing? How you dress, the artwork on your walls, the car you drive, are great indicators of your aesthetic.

One client, "Chris," was absolutely certain that a Modern design would be the perfect engagement ring surprise, but had trouble deciding on a specific ring. After learning that Chris's partner drove a brand new, top line, highly engineered car (the maker's name begins with a "T"), often wore black, and had a tiny tribal tattoo, Krikawa's design consultant connected the dots and helped Chris see that everything pointed toward a sculpted ring, with a Princess Cut diamond center stone secured by minimalist prongs. After being presented with rings matching this aesthetic, Chris quickly settled on the final ring design.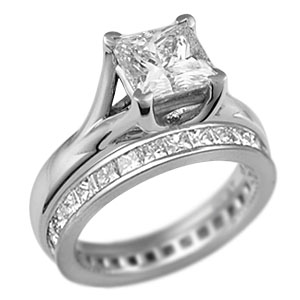 The final step in selecting an engagement ring or wedding ring is your lifestyle. You will be wearing this ring a lot and it should fit with your daily activities. If you lead an active lifestyle, spend lots of time in the great outdoors, climb mountains, bike ride, or feel your ring may get banged around, consider a commitment ring that is bezel-set or a center stone with a low profile. On the other hand, if you are a professional trader with a hedge fund, you may want a showstopper of a diamond ring. With Sam's bohemian clothing and "flow with" lifestyle and our design consultant combined Vintage floral elements with the Rustic feel of a Raw Claw styled center stone, in warm rose gold--and Sam was delighted with the result!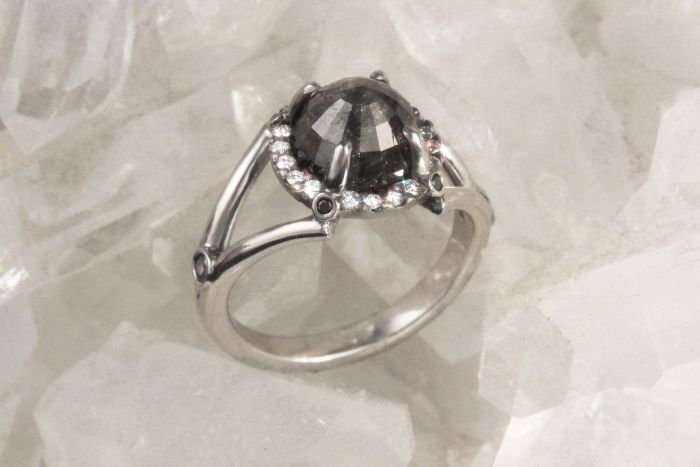 While this article has focused primarily on choosing an engagement ring, the same process can be used for finding the right bands for your wedding or commitment ceremony. Although at first glance, selecting rings from thousands of options may seem intimidating, following this three-step process will give you confidence as you make your decisions. Fortunately, when you choose Krikawa's master jeweler team to create your engagement, wedding or commitment rings, you will work with a design consultant whose goal is to help you navigate the decision tree of ring design, aesthetics and style, to ultimately create a custom ring you will love for a lifetime. Look Around