How the Krikawa Staff is Finding the #CoronaBlessing (updated August 25th, 2020)

LISA

First, let me start by saying: This is crazy. Unprecedented. We're living history right now. The rules no longer apply. And it's hard and sad and heartbreaking in many ways for many people, cities, and countries around the globe.

But, now, more than ever, we need to hear about and witness the positive things that are happening as well. While we acknowledge that the suffering is real, let us not lose sight of so many blessings -- small and big -- that happen every day. I'd like to tell you what's happening at Krikawa Custom Jewelers, and how we're coping. We'd love to know your blessings as well, so share with us how you're doing.
The Status at Krikawa (updated August 25th, 2020)

The biggest #coronablessing for Krikawa is that we are primarily an online, long distance custom jeweler. Our clients live all over the United States, and in other countries. We can actually continue to work, without sacrificing safety.

VIEW OUR COMPLETE HOURS and DIRECTIONS or SCHEDULE AN APPOINTMENT.

Our phone hours are currently Monday-Friday, 9-5 PST. 520-322-6090.

Appointments are offered in two ways. We run a fantastic design appointment by Zoom, as always. Because we've been helping people around the world since 2002, we're no stranger to video conferencing, and actually are able to quickly answer questions, solve problems, and create exciting design solutions quickly via Zoom. Book a Zoom appointment here.

We've opened up the studio to in-person appointments on weekdays and Saturdays. We're sanitizing and being extra cautious to provide a clean and safe environment for our customers at this time. Book a showroom appointment here.

We still have some of our staff on Work From Home (WFH) status, with regular Zoom calls. Basic operations occur on-site, with much distance and disinfecting happening.

#CoronaBlessing (written in March, 2020)

Yesterday, I was catching up with Ryan "the Rock" Davison-Reed, our amazing, most mentioned in google reviews, studio coordinator, master of all, in a Zoom call. He mentioned "hashtag corona blessing" and that opened up an interesting discussion of all the positive experiences we were having.

I was personally noticing these unique blessings, as I mentioned in A Virus of Love Amidst a Virus of Fear, and had started a personal journal entry called "What's Good."

Ryan, Studio Coordinator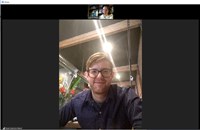 Ryan and his girlfriend coined the term #coronablessing. When I asked Ryan for his #coronablessing of the day he said: "I've been reading novels so much more! There's only so much Netflix the human brain can stand #coronablessings."

And so I've taken the opportunity to poll the rest of our staff, to find out what they've enjoyed and observed.

Nicole, Sales Manager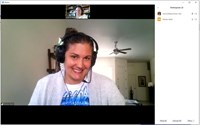 Nicole has been working from home. I Zoom with her and LeCarie daily, so now LC and I get a sneak peak into her house and get to witness some of the shenanegans of her kids, like making duct tape skirts and winding their hair into the beaters.

Nicole says: "The increased family time together. Being present in the moment with the kids while we work through this." And from what I've seen, it's pretty important for her to be present with them, to keep them from damaging themselves :D.

LeCarie, QOTOH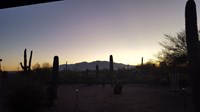 LeCarie is truly Queen of the Other Half at Krikawa. She's been absorbing the laws and guidelines and keeping the staff safe! Oddly, she's also been waking up early in the morning, which TRUST ME is not her MO. I don't know why she's experiencing this phenomenon, however her #coronablessing is the beautiful photo she took of the sunrise.


John, Chief Technology Officer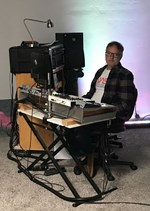 John has always been able to work from home as his primary function is IT. He's a musician too, so his work station has a lot of fun gear on it!

His #coronablessing: "My wife made italian hoagie rolls? What???" Um, yeah that's me. I finally made bread out of the bread cookbook he got me 15 years ago. Hey, better late than never! And we made homemade philly cheese steaks! Yum!



Pat, Cad Design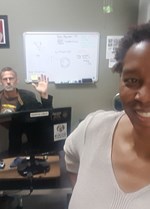 Here's Pat and LeCarie (they're a couple so I don't think they're keeping their distance). Pat's #coronavirus of the day? "No traffic."







Sandrine, Design Consultant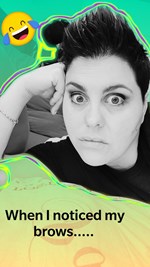 Sandrine says: "I started chatting with a traveling nurse who is designing his custom wedding band. We had small talk with the elephant in the room - understanding. His wedding cancelled - but he had a good humble calming spirit about him. His haircut was amazing and perfect, so we chatted about good short hair styles and techniques. Long story short, it was a blessing to have human interaction WITH an extrovert as well."







Lisa (that's me)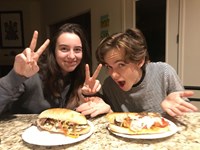 Yep, dems my kids eating their philly cheesesteaks. My #coronablessing? "Happy kids." And I guess, making bread!




Lindsay, Designer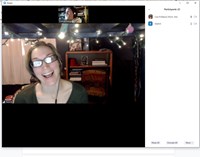 Lindsay is able to work from home like me! She said: "I have enough."






Jill, Goldsmith


Jill's #coronablessing: "Getting out in the sun midday."







I wish each and every one of you the best, the safest, and the most delicious #coronablessing you can find. Yes, these are scary times, but I truly believe we can still find the #coronablessing, aka the silver lining, and the opportunity to shine, today, tomorrow and perhaps, even after this is over. Look Around