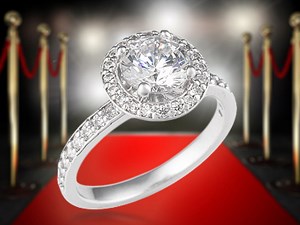 Jun 12, 2015
Awesome Celebrity Engagement Rings: Get the Look for Less
LISA

Celebrities may have enough madcap adventures to keep TMZ photographers busy for days, but when it comes to engagement rings, they're surprisingly traditional. Most flock to designs that are elegant and timeless: think a big center stone, a super narrow band and, possibly, a halo for understated bling.

That said, there are some exceptions -- and they're pretty amazing. Here are a few of the nontraditional designs I'm loving, plus tips on how to snag a similar style for a fraction of the price.

Nicki Minaj
The over-the-top artist has an equally outrageous ring -- and I love it. Her fiance, Meek Mill, splashed out with a huge, yellow, heart-shaped diamond with a double halo of diamonds that's easily one and a half times the width of her finger. On the underside, near the bottom, sits a diamond-encrusted heart with their initials. Some estimates put the ring at $500,000.

Get the look for less:
To mimic Minaj's rock, go for a lab-created yellow diamond, which will give you similar brilliance for less money. On a budget? If you want a big stone and are willing to sacrifice a little sparkle, opt for a yellow sapphire.

Kaitlin Doubleday
In a sea of solitaires, the Empire actress' vintage-inspired sparkler truly stands out. The center stone is an oval diamond set horizontally, and it's accented by crescent-shaped diamond elements on either side.

Get the look for less:
For a wallet-friendly take on vintage, ring a horizontally-set, oval-shaped moissanite stone with a diamond halo. Add U-shaped elements on either side to elongate the shape.

Halle Berry
When you're proposing to one of the world's most beautiful actresses, not just any old ring will do. So it's only fitting that Halle Berry's is a showstopper. Her center stone is an emerald-cut emerald with two smaller, round diamonds on either side. Rounding out the look is a wide gold band with heavy texture. Rumor has it that the ring contains codes and symbols unique to Berry and her fiance, Olivier Martinez.

Get the look for less:
The Oscar winner's ring is filled with custom elements, many of which won't break the bank. Take the heavily textured band, for instance. You can follow Berry's cue and include special letters or symbols in the etchings.

Scarlett Johansson
ScarJo's Art Deco-inspired ring perfectly matches her old Hollywood charm. Three brilliant diamonds are set parallel to her finger and surrounded by blinged-out flair.

Get the look for less:
This is an easy look to crib without spending a lot of money. Simply set your stones vertically and balance out with accents on either side; trim costs with lab-created diamonds or moissanite.

Olivia Wilde
Wilde marches to the beat of her own drum, and her engagement ring is no different. A dazzling round diamond center stone is given a shot of color, thanks to a halo of light green emeralds set in a bezel.

Get the look for less:
Add a halo to give your ring some color -- and help your stone look even bigger. Emeralds are notoriously brittle, so make sure you set the halo down a bit from the diamond. It'll help protect your stones if you accidentally knock the ring against something hard.


Krikawa

.

Where Your Dream Ring Comes True.

Look Around