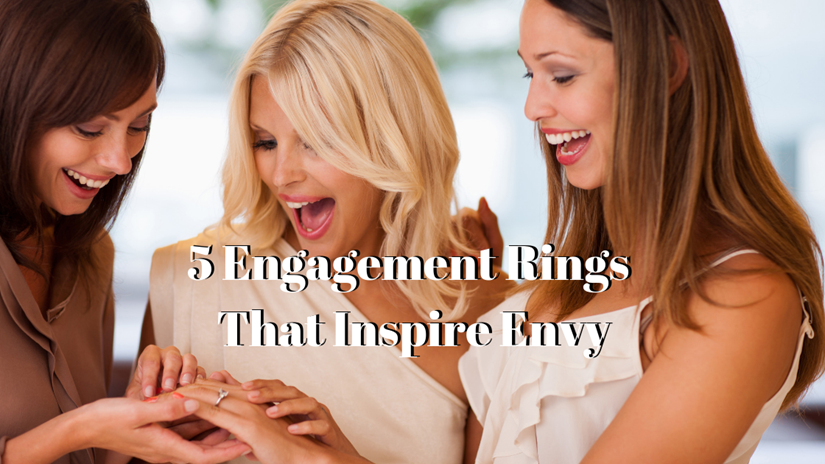 5 Engagement Rings That Inspire Envy

LISA

Engagement rings are a lot of things: an outward symbol of your love and commitment, a sign that you're officially off the market and, of course, a nice piece of jewelry. But let's be honest, they're also a lot of fun to show off. In fact, part of the thrill of getting engaged is sharing your proposal story with and waving your sparkler of a ring around friends, family and perfect strangers. As any bride-to-be will tell you, showing off your ring is even more fun if it inspires a little envy, too. Here are five gorgeous styles that will cause a serious case of the "I want's."

Sparklegasm

Fact: When it comes to diamonds, the more bling the better. But over-the-top sparkle doesn't have to cost you an arm and a leg. You can easily get a huge look for under five figures. The secret? Double halos. Ringing your rock not once but twice in smaller stones gives an otherwise conservatively sized diamond a major visual boost.

While all-white diamonds provide the ultimate bling, there's plenty of room for a splash of color. An outer halo of colored stones—think blue sapphires or pink, teal or champagne diamonds—will make the inner halo and center stone appear as one larger unit. Meanwhile, an inner ring of colored stones will call attention to fact that you have double haloes. Win win.

Tip: If you have your heart set on all natural diamonds, expect to spend around $4,000 for the mounting alone. On a budget? Trim costs by using moissanite stones, which offer the same fire for half the cost.

Royal Envy

Kate Middleton doesn't miss a beat when it comes to her impeccable style, and that holds especially true for her dazzling engagement ring. But you don't have to be a royal to rock the same style. Get the look for less by opting for a lab-created sapphire—you can get a large 3-5 carat cushion cut stone for around $3,000. The rock has the same hardness as natural sapphire and offers the same sparkle and brilliant color. Finish off with an elegant white metal band and a single halo of white diamonds.
Sexy

Bring a little sizzle to your ring finger—and make your girlfriends turn green with envy—with an ultra-feminine Juicy ring. Exclusive to Krikawa, the Juicy line is the Marilyn Monroe of jewelry: voluptuous, luxurious and sexy, all S-curves and intricate details. Though you can opt for a monochromatic ring—think a white metal liner, White mokume and a white diamond—this particular ring is a natural for colored stones. All the better to catch their eye with!
Vintage

What's old really is new again, especially when it comes to engagement rings. And with a vintage ring's eye-catching millegraining, hand engraving and decorative touches, it's easy to see why. Still, if those one-of-a-kind embellishments aren't enough to make your girlfriends swoon, the hidden touches, like a gallery under the center stone, certainly are. In fact, those signature tucked-away surprises may just inspire you to take off the ring so people can see whole thing.
d'Art

Prefer a ring that's more about craftsmanship than the center stone? Consider going sculptural. Flower-inspired rings, for example, are so beautiful and unique, they'll be commented on long after you say "I do." Within that, there's one of my favorites, Vintage Rose, which features delicate petals that appear to hug the center stone. The sky's the limit when it comes to customizing a flower-inspired ring—there are so many ways to make it colorful. One of my favorite combinations is using rose gold and white metal for a two-toned look.

Another artistic option is the Juicy Fleur de Lis. There's plenty of room to customize this sculptural beauty, as it combines up to three different metals and any number of colored stones. The end result is so detailed, so exquisite, that you—and your curious friends—will barely be able to stop looking at it.


Krikawa

.

Where Your Dream Ring Comes True.

Look Around