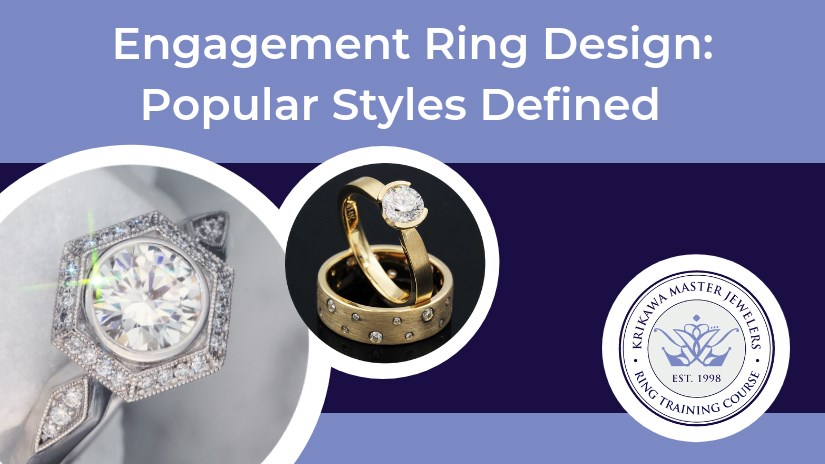 Engagement Ring Design: Popular Styles Defined
Rustic Ring Design

Pieces made in the Rustic style may take their inspiration from before the advent of modern diamond cutting. A Rustic piece may be set with a "raw" diamond (taken straight from the earth and never cut) or may feature "rustic" diamonds which are opaque and have some color but are nonetheless faceted. Mountings in this style will often have interesting textures or natural elements such as a tree bark finish.


Nature Inspired Rings

Branches and leaves are also characteristic of the Nature style. Pieces in this style are frequently adorned by flowers, as well as by birds, bees, dragonflies, and other insects and animals. The Nature style is currently very popular!

Vintage Inspired Rings

The classic era of jewelry (or jewellery if you are in the U.K.) craftsmanship began in the 19th century, and includes Victorian, Edwardian, and Art Deco styles. We can broadly group these styles as Vintage. Hand-engraving, millegraining, and interesting stone shapes are hallmarks of the Vintage style with pieces often kept delicate and thin, featuring predominately white metals.

Traditional Rings

Traditional rings are defined by their simplicity. Evolving as a solution to the need for mass production in the mid twentieth century, traditional style rings are characterized by a conservative use of metal and labor. This style was popularized by the DeBeers marketing campaign promoting the diamond as a girl's best friend, where the expensive diamond became the focal point, and the artistry, talent, and unique characteristics were removed from the mounting, making mass sales a possibility.

Traditional jewelry will often have the same fine, delicate features seen in the Vintage style—but the pieces are very minimalist. For example, a ring in a simple Traditional style will often have a very thin band and a solitaire center stone in a four-prong or six-prong setting. Even with three-stone or five-stone rings, the archetypal mounting of the Traditional style will feature the stones set in prongs on a very simple shank.

A classic jewelry store (i.e., a chain store or mall store) will tend to focus on the Traditional style. When Krikawa makes a Traditional style piece for a customer, we put our laser beam eyeballs on every aspect of proportion and line, as it is the simplest of form yet can become superbly elegant when done well.


Modern Ring Design

Expanding upon the uber utilitarian design of the Traditional style, the Modern jewelry style brought back the arts and crafts into the design process, and can be characterized by the Bauhaus movement. Contrasting the delicate nature of the Traditional style, this style speaks to the artist and engineer within us as we seek inspiration and symmetry in our natural surroundings.

Pieces in this style tend to be a bit heavier and have larger surfaces, as conservation of material is not a necessary component. The unique lines of the Modern style are deceiving simple and the key to its elegance. The Modern style can edge its way into an industrial look when taken a step further.


Contemporary Ring Design

The Contemporary style takes the Modern one step further, typified by interesting curves, heavier bezels and strong lines. In this style, you will see a lot of bezel settings, sometimes accompanied by-passes, and "swooshes." The Contemporary look embraces unusual stones and a lot of color! You may even see jewelry that looks futuristic or architectural, as "Contemporary" is truly defined as designed currently.

Luxury Engagement Rings

Finally-and this is not a true "design category" so much as a design aesthetic—we have arrived at Luxury! Almost any of the aforementioned design categories can be the starting point for creating a Luxury piece. Luxury jewelry is often characterized by its sparkle and wow factor, most commonly recognized as encrusted with diamonds, however that does not always have to be the case! A complex work of metalsmithing can also fall into the Luxury category. If there's a center stone, it is often a stunner!




Whether you prefer the height of luxury or the raw elements of rustic, never before have couples embarking on their new lives together had so many design options. Every person is unique, as is every couple—while one relationship may find its best representation in a ring that draws on the leaves and branches of the Nature style, another may be defined by the elegant simplicity of the Modern. Combining the best elements of past designs with the endless possibilities of imagination, our team at Krikawa Jewelry Designs is ready to help you make your dream ring come true!

This is lesson 1 of a 21-part lesson series, "Krikawa Ring Training Course". Sign up for the complimentary ring education course here. Look Around