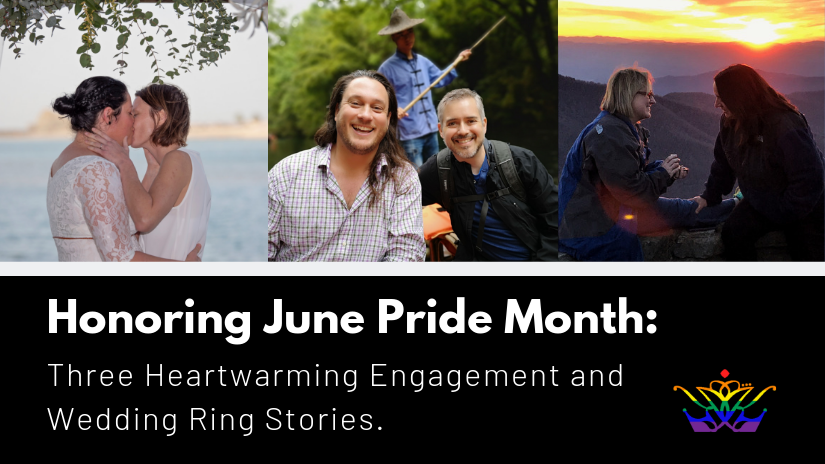 Honoring June Pride Month: Three Ring Stories

LISA

It's no secret: At Krikawa, we believe in LOVE for everyone! This bedrock principle is at the heart of who we are as individuals and how we continually strive to serve our patrons within our company. In honor of Pride Month, we'd like to share a few of our favorite client stories (and rings!) as well as offer an extended thank you to After Ellen for featuring us as one of its "Ten Lesbian-Friendly Jewelry Stores for Engagement Rings!"

Janie and Meg: Stumbling into perfection

Janie and Meg met while living in Louisiana and Alabama respectively, but long-distance dating proved no obstacle to commitment. They quickly realized they had a future together, discovering a shared adventurous spirit and love of travel, as well as a common calling to help others—Janie is an occupational therapist, while Meg is a teacher.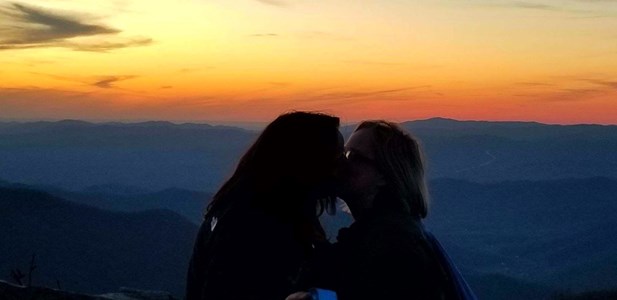 As their discussions turned to marriage, Janie and Meg began looking at rings online; Meg found a design that she knew was close to perfect—a scaffolding engagement ring, which cradles the wedding band. "After some serious internet searching, I came across Krikawa and saw that they had some similar features in their rings," said Janie. Hoping to make a piece inspired by Meg's favored design, she reached out to us, and we discovered with some amusement that Janie's ring inspiration was in fact an original Krikawa design!

Working with a design consultant to make the perfect bridal set, Janie was excited to be in the driver's seat throughout the design process. "The ring that I wanted to have made was very customizable and I was able to make it uniquely ours," she said, "I couldn't have wished for a more seamless process."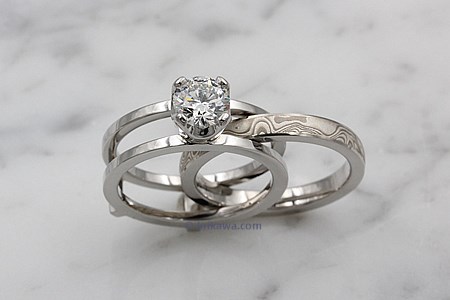 At Krikawa, our clients benefit from unlimited possibilities combined with years of experience. When Janie hesitated in selecting a center stone, she said, "My design consultant helped me choose the right diamond and I relied heavily on her expertise to help me make my decision. I was thrilled with the final outcome!"

Ring in hand, Janie took Meg on a trip to experience the natural beauty of western North Carolina, a region that Janie had fallen in love with as a child. On Craggy Pinnacle, after racing the slowly setting sun to the pinnacle's summit, Janie shared her feelings with Meg and popped the question. Unbeknownst to the couple, nearby hikers witnessed the proposal and erupted into cheers when Meg said yes. Luckily for them—and for us—their fellow hikers were skilled amateur photographers and captured Janie's proposal for posterity.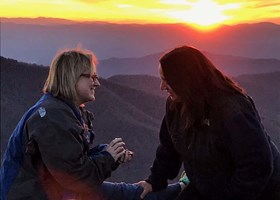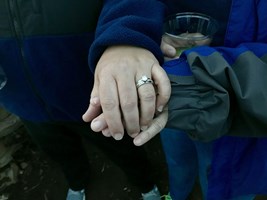 Amanda and Kate: A love-match down under

When Amanda met Kate the connection was instant. A year later, Amanda was ready to propose and planned the perfect vacation for the occasion: a trip to Japan during cherry blossom season with Kate and Kate's three year-old son. The trio had already become a family, so Amanda was ready to make it official. Unfortunately, Amanda wasn't able to find the perfect ring for Kate with any of her local jewelers in Queensland, Australia.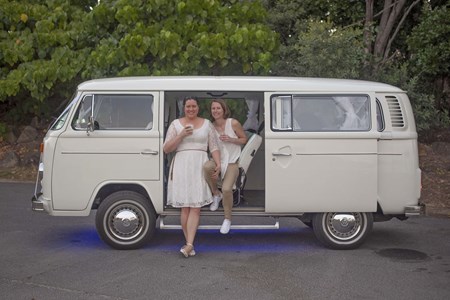 When Amanda discovered Krikawa online, she fell in love with the flowing organic lines of our Tree of Life with Roots engagement ring.

"The design really just spoke to me," she said. "It had that 'Wow!' factor."

While browsing other rings in our portfolio, she was drawn to black diamonds but couldn't envision how it would look in the ring. Amanda's design consultant provided a photo mockup, and the answer was clear: "I wanted Kate's ring to have that stand-out feature, and black is a color that both of us are drawn to. It was stunning!"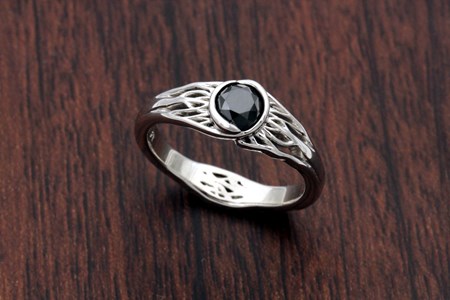 Amanda didn't have any experience with importing jewelry, but we have tons of it—or tonnes, as the case may be. "I was worried at first, but it ended up being super easy," she said. The ring arrived to Amanda in Australia in plenty of time for their trip to Japan. "When I opened the box, I must have looked at the ring for ten minutes. And then I took photos of it, so I could keep looking at it." Still, Amanda waited to find just the right moment to present the ring to Kate.

After playing it cool through Japanese customs with a diamond ring burning a hole in her pocket and profound love in her heart, Amanda took Kate and her son to Yoyogi Park in Tokyo. Among the cherry blossoms in the early spring, Amanda dropped to one knee to ask for Kate's hand. The answer was yes—to both the proposal and the ring: "I thought it was absolutely amazing, I loved the black diamond," Kate said.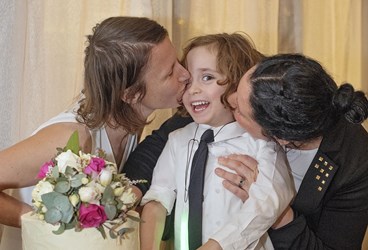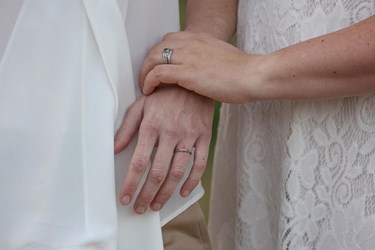 At Krikawa, we heard the good news a few months later - when Amanda and Kate were in peak wedding planning mode - and in need of the perfect wedding bands.
Eric and Richard: And finally, a wedding close to home

One of our favorite stories is from Eric and Richard, who came to Krikawa for rings even before same sex marriage was made legal in Arizona. As long-standing Tucson residents and members of the local art scene, Eric and Richard were aware of Krikawa's work long before they came to the studio to have their wedding rings designed.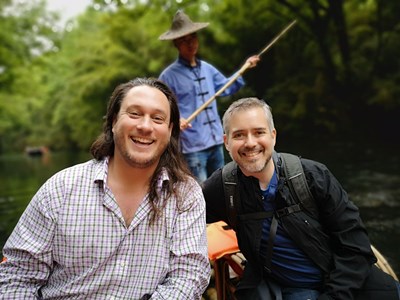 As for their own rings, "I thought I knew what to expect, but I couldn't believe how good it looked," Eric said. Richard agreed; "It was very edgy for me," he laughed. "I love this ring so much though, everyone comments on it!"

For this couple, their wedding rings were symbols of their commitment to each other and also needed to showcase plenty of symbolism, as Eric explained: "On the Chinese zodiac, Richard is a metal pig and I'm a wood tiger." Their design consultant recommended rings with mokume gane and this was a perfect match for this couple.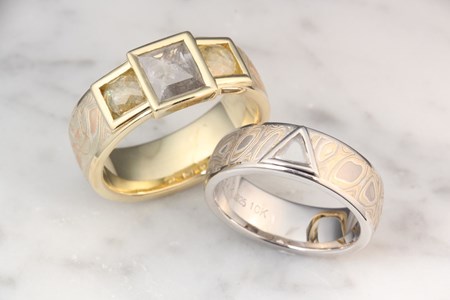 They also wanted both of their rings to heavily feature the number three, which had layers of significance for both men. Eric's ring was designed with three stones to symbolize "in our relationship, there's me, and there's him, and then there's the 'couple-ship' as a whole."

Richard's ring was designed with a single center stone--a raw triangular macle diamond--that took its shape naturally over the millennia of its formation. "The triangle is a symbol of gay rights and history," said Richard, "And I liked the fact that this triangular stone was naturally made. It's natural, and it's beautiful, and it's unique. It was a way for me to symbolize that being gay is also natural."

According to Eric, the couple's relationship had "an undercurrent of commitment from the beginning that was kind of like a marriage; the pieces settled into place over time." The final keystone would be laid in two successive ceremonies. As Arizona had not recognized same sex marriage, Eric and Richard first travelled to California to be legally married and exchange rings in front of their closest friends and family. Afterward, they returned to Arizona where the couple had planned a grand celebration in the Tucson community that had brought them together. As with their rings, Eric said, "We were so thoughtful with every part of it. We didn't want to just go get a piece of paper somewhere; we wanted it to mean something."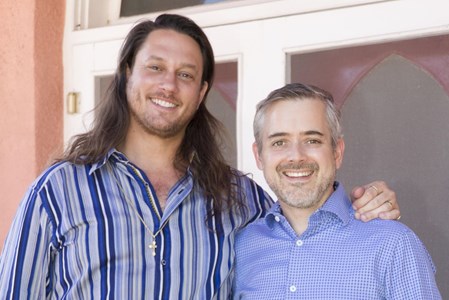 We love a happy ending to every story. Two weeks after Eric and Richard's celebration in Tucson, the Arizona state attorney general (then Tom Horne) refused to file additional court appeals over the legality of same-sex marriage, thus ending a decades-long struggle for the Arizona LGBTQ+ community. In October 2014, clerks across the state began issuing marriage licenses to same-sex couples, making Arizona the 31st state to recognize marriage equality for all!

At Krikawa, we support all couples in love, and it is an honor to be a part of every love story. Congratulations and heartfelt blessings to the three couples whose love stories we featured here. You can see more wedding and engagement ring sets we've created for same sex couples here.

May love radiate out to all the unique and diverse love birds around the world!
Look Around