Luxury Corporate Gifts: Saying Thank You in Style

LISA
What's the best way to inspire a burgeoning workplace? Rewarding your employees can have an indirect benefit to the company, leaving your employees feeling recognized and appreciated. We spend nearly one-third of our lives in the workplace so why not make it enjoyable for everyone? Here at Krikawa, we believe that genuine gifts lead to genuine relationships and genuine relationships have no limits as to what they can accomplish.
Krikawa has officially launched it's corporate jewelry division. Visit
CorporateJeweler.com
to download the free catalog!
Wondering what your logo would look like as a piece of jewelry art? Take the Corporate Jewelry Wizard quiz now and get your free personalized guide:

There are an infinite amount of ways to reward someone, yet a thoughtful, valuable gift that was handmade with care will truly speak a thousand words.
Some large corporations are leading the movement in rewarding their employees with unique awards. Company retreats, bonuses, and other incentives are popular among businesses trying to develop a strong sense of loyalty. While trophies such as top salesman, team player, or perfect attendance are attractive for businesses to utilize; one company has chosen a more sincere approach.
Cargill, Inc. and Krikawa Jewelers have teamed up to produce rings specially made for the company's top performers. Each ring is elegantly set with either an emerald cut emerald, for the men, or a cushion cut emerald, for the women, as well as the Cargill, Inc. logo etched into the side. In addition, this design features the Cargill leaf logo along the shank, adding to the level of customization available for each ring.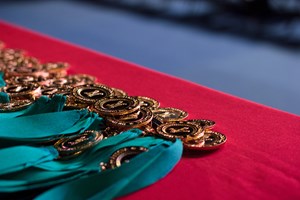 The custom gift doesn't have to be as fancy as that, however. For example, Krikawa is proud to be working with The University of Arizona Honors College in providing medallions for each graduate. The medallion is a symbol of the hard work students endure in order to reach their goals.
Gift-giving can be one of the most rewarding experiences someone can feel. It is important to recognize people's efforts as it may have an effect on the performance of the company.
Krikawa values conscious appreciation and is honored to help companies
create quality branded items
that they can be proud and excited to present!
The process is easy; simply
s
tart with this corporate jewelry quiz
and we'll send you a free personalized corporate jewelry guide. Or, download our catalog at
www.corporatejeweler.com
, and get ready to see your logo dripping in jewels.
Krikawa
The Perfect Reward for Greatness
Look Around