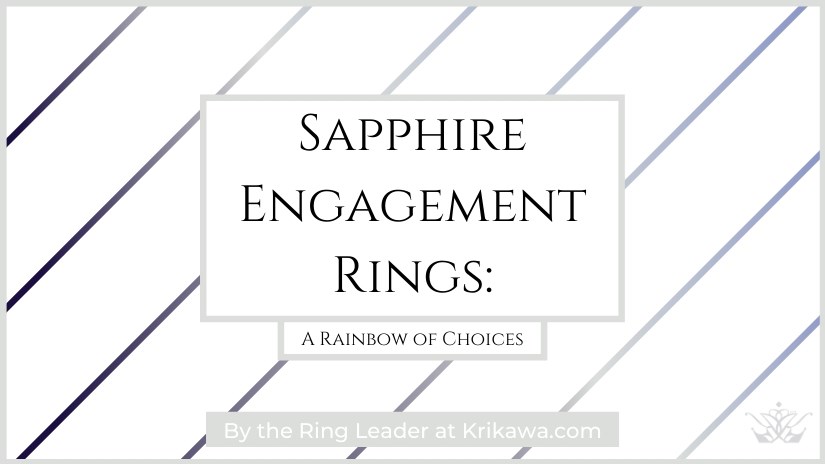 Sapphire Engagement Rings: A Rainbow of Colors

LISA
The History of Sapphire in Engagement Rings
Sapphire
engagement rings
are not a new invention. The history of sapphire engagement rings goes way back. Sapphire was used along with
ruby
,
emerald
and
diamond
for engagement rings from the 15th century to modern times. In the 18th century, sapphire was popularized by a story by Madame De Jenlis, in which "Le Sapphire Merviellence" was said to assist with fidelity in a marriage. Sapphire was used in Victorian engagement rings, Edwardian engagement rings, and Art Deco engagement rings. Sapphire was re-popularized by the contemporary proposal of Prince William to Kate Middleton, with a
blue sapphire halo engagement ring
.
Sapphire Colors

The traditional color of sapphire for an engagement ring is a blue sapphire. The highest quality blue sapphire would be a Ceylon sapphire; a rich, deep royal blue. However, blue is not the only color found in sapphire! Another extremely rare and valuable sapphire is a Padparadscha sapphire, a deep saturated pinkish orange color. Not all peach sapphires get classified as a Padparadscha sapphire, but a nice peach sapphire is still a rare find! Purple sapphire and pink sapphire are close to the top of this list in popularity, and while green sapphire is not often sought after, it can be found in shades of blue green and yellow green, it can be absolutely gorgeous surrounded by white diamonds.

Sapphire Hardness
Sapphire makes a great choice for a colored center stone because of its
hardness
. It measures 9 on the Moh's hardness scale (listed on this scale as corundum). Diamond comes in as the hardest material on Earth at a 10. The scale is exponential, however, as sapphire has an absolute hardness of 400, and diamond comes in at 1600. Still, sapphire beats out the softer alternatives. We get many requests for garnet or tourmaline engagement rings, and because of the softer ranking of other semi-precious gemstones, sapphire is always the first "go-to" stone for color. Softer stones will become abraided over time, making them appear matte or milky. Of course, you might also consider a
fancy colored diamond
.
Sapphire Certification
Sapphire is not graded by the same
4 C's
as a diamond. As a matter of fact, very few sapphires are even certified. The reason a sapphire would be certified is if it is an usually large or fine specimen (rare and valuable), or if it is truly unheated, and even then, it's usually just the larger or finer gems that are certified.
Sapphire Cut

How is the cut of a sapphire judged? Each sapphire is cut by hand and so each stone has to be looked at individually. You want to see light flashing back to your eyes as you move the stone. If the center of the stone shows no flashes of light, that would be considered "windowing." It's not uncommon for sapphires to be very deep, as the original "native cut," or cut from factories over seas, are intended to maintain weight and saturation of color, and typically have rectangular shaped facets. A well cut sapphire is usually recut by the US vendor. Some sapphires are considered "diamond cut," which means that the cut mimics the cut of a diamond. These can be very sparkly, especially for smaller sapphires. A "Portuguese cut" allows for more depth in the stone, and has lots of little kite shaped facets. Whatever stone you choose, simply make sure that you like the play of light when you look at the stone.
Sapphire Clarity
Sapphire dealers do not assign the
diamond clarity scale
to sapphires. We will often get questions like "is it VVS or VS? We do not grade sapphires against the diamond scale. What you want to look for in the clarity of a sapphire is that it is eye-clean, in other words, you cannot see inclusions with your naked eye (without magnification). Is that mandatory? Of course not! If you find a rare color in a specific shape, you may just have to love it even if it has some small internal characteristic that is visible to the naked eye. All different kind of inclusions and internal characteristics can be found in sapphire, including clouds, feathers and color zoning. Finer sapphires are clean and solid color (free of significant inclusions or color zoning) even under 10x magnification.
Sapphire Treatment
heated
, and only the most rare of sapphires are unheated. 95% of sapphires undergo low heat at the mine to improve color, reduce color zoning, and improve clarity. If you are looking for the finest sapphire, an unheated specimen that is certified as such commands the highest dollar. Whether you choose a heated stone or a certified unheated stone is a personal preference; the unheated sapphire is more valuable due to its rarity, but does not outsparkle or outlast its more common heated brother.
Most sapphires are
Vintage Sapphire Engagement Rings
The rediscovery and popularity of
vintage engagement rings
couples perfectly with the sapphire. True vintage engagement rings are commonly set with sapphire, and that is one of the reasons why sapphire engagement rings are so popular now! The classic blue sapphire and white diamond combination evokes a feeling of heirloom jewelry, even when set in a modern ring.
Colorless Sapphire: A Good Diamond Alternative?
Sapphire is a more affordable choice than
diamond
, but beware of the colorless sapphire. The reason for a sapphire in an engagement ring is truly for color. A colorless sapphire does not compare to diamond. A diamonds scintillation gives it fiery colors... a rainbow of colors that play in the white, whereas a white sapphire does not have this scintillation. It is simply... colorless, white. And when it gets a little dirty, it really has no redeeming features. The example on the right was made for a client that insisted upon white sapphire, even with the above disclaimer. She came back a month after wear and had it replaced with a Moissanite. The best diamond alternatives would be Lab-Created Diamonds or
Moissanite
.

Final Words of Advise on Picking a Sapphire for your Engagement Ring
When picking your special colored sapphire, choose a color that is special to you, something that makes you feel good. Color can be power and personality. Each sapphire is totally and completely unique. Pair the sapphire choice with an engagement ring that reflects your style, the love and romance in your life at this time, and know that a quality sapphire engagement ring will withstand the test of time. Pass it down; it is an heirloom treasure that will be cherished for generations to come.

Krikawa
Where Your Dream Ring Comes True.
Look Around