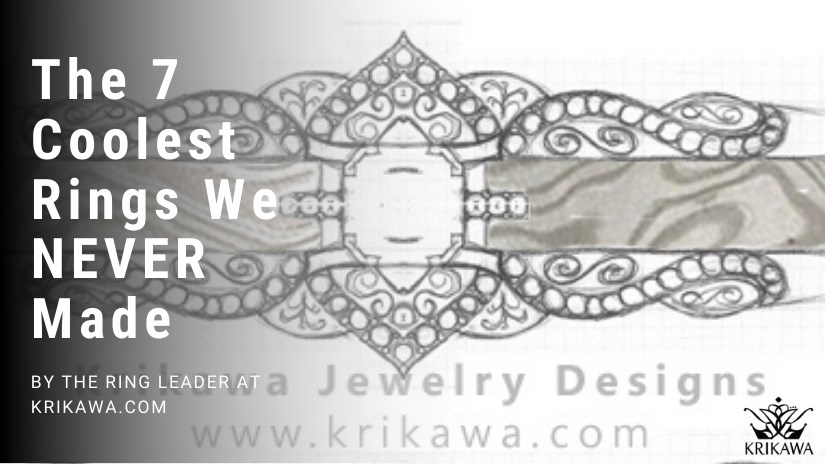 The 7 Coolest Rings We NEVER Made

LISA
Seven Engagement Ring and Wedding Band Concepts
Waiting Just For You
Yes, you read that correctly. These are my seven favorite ring designs that haven't made it to the goldsmiths bench, or to a warm finger. These babies just dance around in the back of my head, calling out every now and then. What they really need is a warm home! Weigh in; which one is your favorite?
This image is just a
sketch/mockup
. We are constantly creating design concepts for our clients as we work to interpret our their desires.
The Phantom Ring was inspired by
The Phantom of the Opera
. From the front view, you can see the theater mask adorned with pave set diamonds. From the top, it makes a gorgeous three stone engagement ring with a round or cushion shaped center stone, and half moon diamonds or sapphires on the sides.
I designed the ring on paper, and
John Krikawa
did the modeling and
rendering
. John modeled drapery and a wooden stage, adding the glow of theatrical lighting post rendering, in photoshop. We used this gorgeous artistic rendering for a few advertisements, but never did get around to actually making the ring.
This ring was originally designed for a
spessartite garnet
. With a scalloped halo of 1/10 carat diamonds equaling 1.20 carats, this ring will be sure to dazzle. The halo is decorated by pave diamonds on the sides, and supported by a gorgeous yet modern gallery.
I'd love to see this with any large oval colored stone. Color looks so spectacular with a white diamond halo. What's your favorite color? Surround it with over a carat of white diamonds, and any stone is sure to pop.
The image to the left is our classic
computer rendering
that we create as proof of concept for our clients. Renderings like this are created after the sketch, and
after the deposit.
This image is a computer rendering, which I created for fun as I was playing with the idea of black diamonds and gold crosses.
Getting the finished product to be as high polish as the rendering shows will require master goldsmithing, which, of course,
Krikawa
is known for.
How about a
natural fancy colored
pave' field of diamonds? Pink, yellow or blue? I tried and tried to find natural blue diamonds for this design, and the price was out of this world! Save us some trouble (and save yourself some serious cash) and just go for the pink or yellow, 'kay?
This sketch was created for a potential client, but I'm afraid the massive labor of hand cut pave' plus the cost of natural fancy colored diamonds made him pause...
I really, really want to make this ring! Why don't I? Just waiting for the right customer. This is a seriously medieval ring design. The dragon scales and claw prongs are screaming Gothic Prince! The
mokume
gives it that rough hewn wood look.
What'dya think; black diamond or
ruby
? My vote is for ruby. Oooh, this would look great with a cabochon too. Any takers?
Last but not least is a design that will fit beautifully in our collection of
Infinity Engagement Rings
. I love the layered, pierced
rose gold
peaking through to the highly polished mirror finish of the platinum underneath. The beading on the side of the band and the filigree under the center stone give this romantic ring the vintage appeal, while the infinity symbol keeps it current.
This is a classic cathedral design for a round brilliant or cushion shaped diamond. Surely this pretty ring will find a home?
Krikawa.
Where Your Dream Ring Comes True.
Look Around