What is a Black Diamond?
The New White: Black Diamond Engagement Rings
Unique, captivating, and somewhat mysterious, black diamonds have become a popular choice for engagement rings, men's bands, and fashion jewelry. Black diamonds can be dressed up or down with a look that can be either edgy or sophisticated, and it is this versatility that makes them a perfect choice for any piece of jewelry.
---
Start with a mounting and then add a stone!
Any Krikawa ring can feature a Black Diamond as its center stone! Browse our portfolio for an existing style or start your custom journey:
Unique Engagement Rings | Mokume Engagement | Start Your Custom Order

Check out some of our favorite Black Diamond rings below! (Each mounting and center stone are sold separately.)


---
Start your journey by finding the perfect Black Diamond!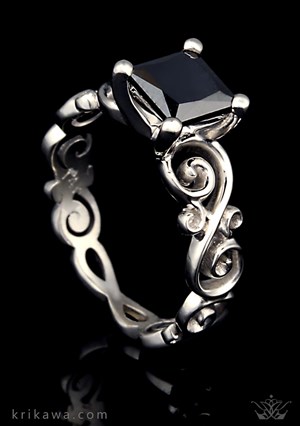 Your custom black diamond engagement ring is just a few clicks away. Once you select your black diamond, below, your design consultant at Krikawa will help you create the ring of your dreams.

From a simple solitaire to a luxury engagement ring, your black diamond ring will truly be able to tell your love story.

Whether you prefer the unusual, facinating natural black diamonds with an inner landscape, or the solid black diamond, we'll source your perfect stone.

Fill out the form below to get started.
---
Two Types of Black Diamonds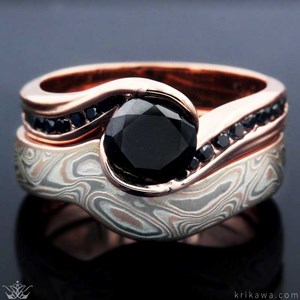 There are two types of
black diamonds
in the market. The majority are natural treated diamonds, which mean they were mined from the earth and irradiated, or exposed to a strong radioactive and heat treatment that darkens the stone's color.
The second type of black diamond is natural untreated, which means the stone isn't subjected to any irradiation. As a result, the diamond isn't completely opaque; you can look through it and see the beautiful inclusions. Despite the areas of transparency, however, the stone will appear mostly black to the naked eye. Natural untreated black diamonds are somewhat rare, but you can expect to pay much more than the treated version.
Natural Fancy Color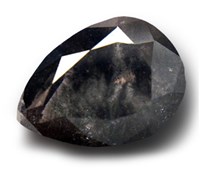 In a natural fancy color black diamond, the color is caused by the presence of numerous inclusions in a dense concentration. These characteristic inclusions consist primarily of graphite, as well as traces of magnetite and hematite. Because the inclusions are the very thing that give these diamonds their color, natural fancy colored black diamonds do not receive clarity grades. While these diamonds are mostly opaque, transparent areas between inclusions can often be seen when light shines through the diamond.These areas typically appear brown but may be any pale color.
Color Enhanced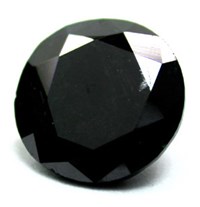 Color enhanced black diamonds are also an available option. These are natural diamonds that have been irradiated to give them color. Unlike natural fancy color black diamonds, the clarity of treated black diamonds does vary.
Almost completely opaque and nearly pure black in appearance, the beauty and affordability of these stones makes these an ideal choice for both bridal and fashion jewelry.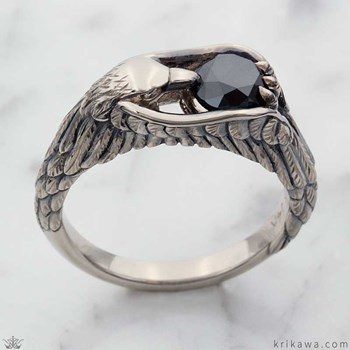 ---
Black Diamond History
Famous Black Diamonds
Called "Sergio" the largest diamond ever found came from Brazil and weighs in at an impressive 3,167 carats, or about 1.4 pounds

Seen for the last time in Tokyo in 1971, the Black Star of Africa is a massive 202 carats.

The Star of Islam is an emerald cut diamond weighing 160.18 carats.

The most famous of all is the Black Orlov diamond. It weighed 195 carats in the rough. Beautifully cut and polished to a faceted, cushion-shaped gem, the Black Orlov still weighs a very respectable 67.5 carats.
Black Diamond Lore
As a real, natural diamond, these stones share all of the same meanings and symbolism as traditional white diamonds, such as strength, wisdom, eternity, and everlasting love. Italians in medieval times believed that black diamonds wielded the power to restore the relationship of a married couple, and the Black Orlov diamond had a reputation for bestowing happiness and good fortune on anyone who touched it.
The Origin of Black Diamonds
Prepare yourself for an out-of-this-world experience and
check out our blog on the origin of black diamonds
. Bon Voyage!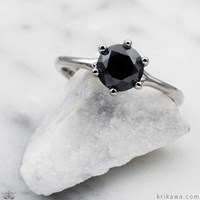 ---
Assessing Black Diamond Quality
Because of the high number of inclusions present in natural fancy color black diamonds, clarity is not a factor in determining the quality and value. Instead, the cut and polish are the main traits that should be taken into consideration when selecting your black diamond. The numerous inclusions occurring in a dense concentration makes cutting these diamonds difficult and can result in the presence of small cavities and interconnecting feathers that reach the surface. To ensure that your black diamond is a beautiful, high-quality stone, take care to look closely at the surface, paying particular attention to the table and table facets. A well-polished black diamond will have a smooth surface with no visible blemishes.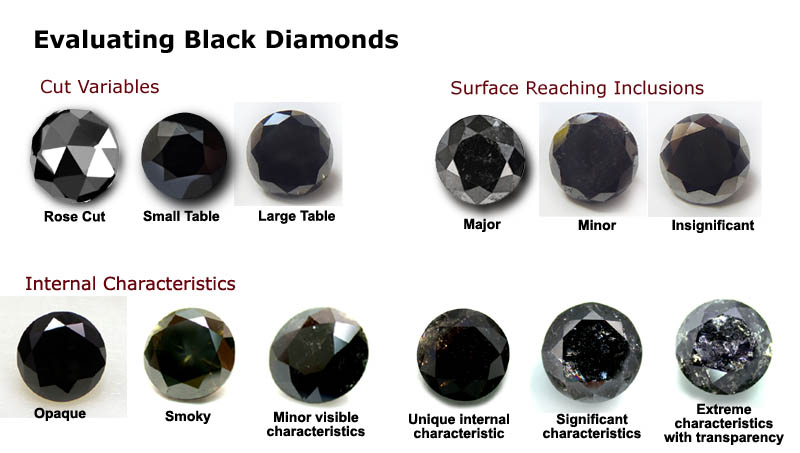 ---
What Black Diamond Will Make Her Eyes Smoulder?

Get help designing.
Build your ring in this Quiz
or Meet Your Ring Design Consultants
and prepare yourself for the experience of a lifetime.