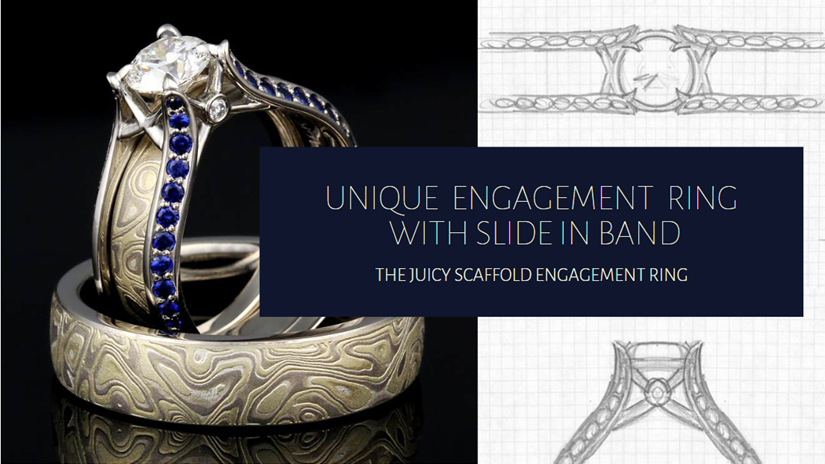 Unique Engagement Ring with Slide In Band: The Juicy Scaffold Engagement Ring

LISA

The scaffold engagement ring is a new take on the traditional concept of a bridal set with a separate engagement ring and wedding band. With a scaffold engagement ring, as you become one in marriage on your wedding day, so does your set of rings. Your wedding band slips into the engagement ring securely and the two rings truly become one. Krikawa is pleased to debut a new style of scaffold engagement ring that has been added to our growing collection.

The Juicy Scaffold Engagement Ring is inspired by our popular Signature Juicy design. Like the other rings in the Juicy Collection, "hand-cut European style pavé" set stones of your choosing follow arching curves up the sides of the ring to support your center stone. With this scaffold engagement ring, you have the freedom to choose from a variety of wedding bands that can be made to slide right into it. You can choose a diamond accented band for added sparkle, a mokume gane band (pictured) for a beautifully unique set, or a simple wedding band for a more modern look. Whichever you decided, you are certain to have a one-of-a-kind bridal set when the two rings are joined.

Let us take you behind the scenes so you can see how this beautiful ring came to be...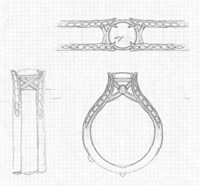 As you may know, the majority of our custom designs begin with a sketch. As one of our designers listens to the wishes of the client, they will sketch the initial concept of the ring. With the Juicy Scaffold, this sketch was considerably less difficult because the blueprint was provided by earlier Juicy designs. Nonetheless, the sketch is crucial to visualizing the final result and to making sure both the designer and client are of the same mind.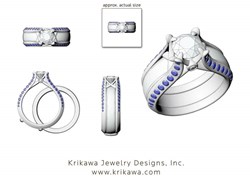 Next, our tech savvy CAD modeler creates a 3D computer rendering of both the engagement ring and the wedding band that will fit within. With this new visual, we see the final set from multiple views. Any kinks in the design or production can be worked out at this stage and once the "all clear" is given, the design is given to our Master Goldsmiths and production begins.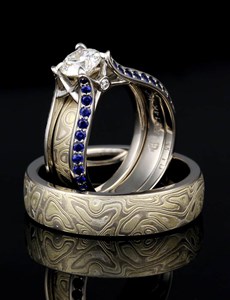 The rings are produced simultaneously to be sure they fit together seamlessly. Each ring is beautiful independent of the other, but as a set they are stunning. In this instance, the bride and groom chose matching Winter Mokume Wedding Bands. The Juicy Scaffold Engagement Ring compliments her wedding band flawlessly and the bride is able to customize a ring to suit her style while still having a wedding band that matches her husbands perfectly.

Lisa Krikawa was asked what she loves about the new Juicy Scaffold Engagement Ring:

"The Juicy Scaffold Engagement Ring is awesome. So, many years ago we created the original Juicy Light Engagement Ring and that became Krikawa's Signature Engagement Ring. We've also created many scaffolding rings which is where the wedding band slides into the engagement ring and that's really fun, like the original Modern Scaffolding Engagement Ring. The nice thing about that technique for a set is that both the man and the woman can have identically matching wedding bands. So, with the Juicy Scaffold, we took our Signature style and made it so that the band can slide in and out of it. You can actually have many different looks for your engagement ring. You can slide in a ring that let's say was all pave diamond or a different color mokume. So you get that look of the Juicy Light with the flexibility of a scaffold and also have the matching wedding band with your significant other. I love that design."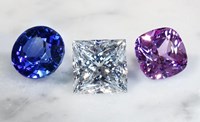 If you are considering a bridal set, we encourage you to look through the many Scaffold Engagement Rings Krikawa has to offer. The versatility and symbolism of the designs make them an instant favorite for many brides. Also, Krikawa can help you find your perfect center stone for your custom ring. Our large catalog of certified loose diamonds include natural and lab-created diamonds in a variety of cuts and colors. If you are looking for a more non-traditional center stone, like a sapphire perhaps, we can help with that too! All the sapphires and gemstones in our catalog meet our strict standards for cut and clarity.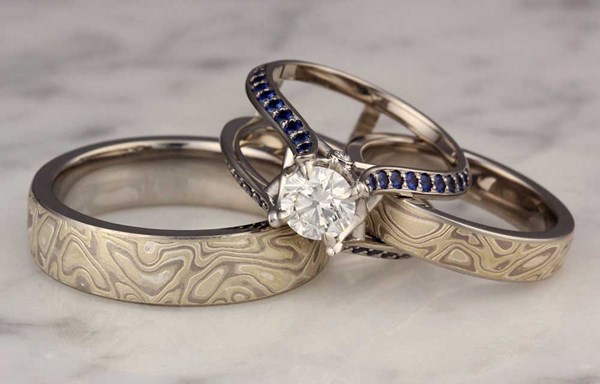 Krikawa.com
Let Your Love Shine
Look Around