Mokume Care
DIY Maintenance for Wood-Grain Metal Rings
Mokume rings wear differently for each person, depending upon their daily activities. Here are some pointers on how to take care of your ring, depending upon what kind of finish you have:
High Polish
High polish mokume is very easy to take care of. A polishing cloth or polishing cream (available in our maintenance package) will do the trick to polish it up. Of course, the cream and the cloth will not remove dents and dings, which are a product of normal wear on all precious metal rings.
Matte Finish and Etched Finish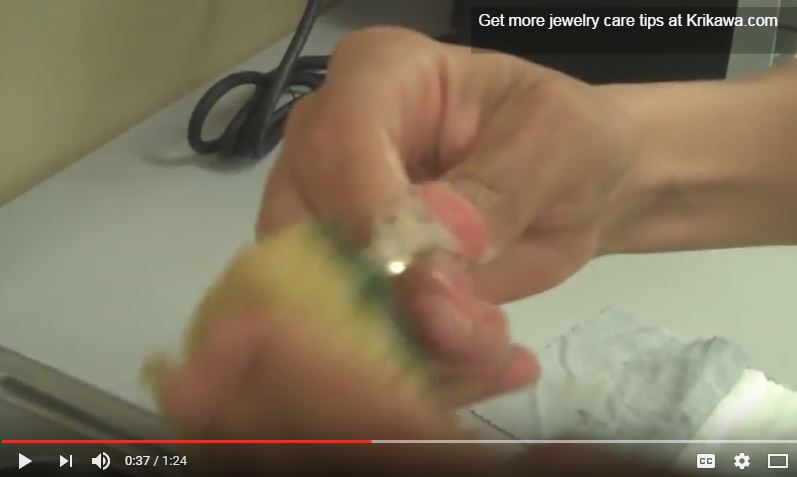 There is very little to do to care for a matte and etched finish mokume ring. The finish that your ring has upon arrival is a bead blasted finish, similar to sand blasting, only created with glass beads. This leaves a slightly pockmarked finish that absorbs the light, and thus gives it a matte appearance. Any finish on precious metals is superficial, i.e., it is a superfine texture on the surface of the metal. As this surface is rubbed or pressed upon by other materials (like pots and pans, door handles, purse handles, steering wheel, etc.) the surface will slowly take on a "worn" appearance; the pockmarks will smooth out. We do everything possible to work harden the surface, to create the longest lasting finish possible, however, precious metal is no competition to repeated contact with normal daily activities.
While you might not be able to beadblast your ring at home, you can bring back the matte, light absorbing finish with a simple technique that does not remove any metal. If you have a simple mokume band, without stones or any other features, a nice way to refresh the surface is to take a small square of Scotch-Brite (the green scouring pad available at the grocery, drug or hardware store), soften it up in water and soap, and run it gently around the ring. This will help refresh the metal and make the colors stand out again.
Check out our youtube video here!
Of course, you are always welcome to send in your ring for a fully refreshed surface!

How to Darken Mokume
Mix a cap full of fresh bleach and a 1/4 cup of hot water together in a small glass. Submerge the ring for a minute or two until desired darkness is achieved. This is only possible on mokume that has a layer of sterling in it. Do not bleach dip jewelry that contains pearls and the soft porous stones like emeralds, opals, aquamarines, tanzanite, garnets, coral, turquoise, tourmaline, quartz, topaz and beads. Safe for diamonds, sapphires, alexandrite and spinel.

How to Avoid & Remove Darkening on Sterling-Bearing Mokume
Darkened sterling occurs in a few scenarios: when the jewelry is worn in a pool or jacuzzi, when the ring comes in contact with bleach and some sunscreens, and with some uncommon skin pH balances. Avoid exposing your ring to these conditions. To remove the darkening, refinish the ring according to its finish type (see above). If this does not work, you may wait a couple of weeks for the surface to return to natural, or you may return the ring to Krikawa for a professional refinishing. If this is recurring and bothersome to you, or if you prefer to wear your ring when swim, you may prefer a non-sterling mokume or a heavy etch.