Champagne to cognac diamonds
Love Chocolate? Diamond Engagement Rings With Earth Tones
From subtle champagnes to rich cognacs and dark chocolate, brown diamonds are the new classic.

Their warm golden tones make them a softer, gentler alternative to the colorless diamond, and their neutral color makes them the perfect choice for timeless jewelry with a contemporary feel.

Combined with rose gold, these champagne to cognac diamond are truly luxurious.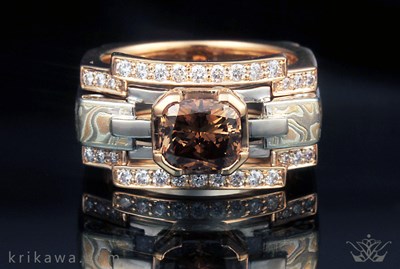 ---
Champagne Diamond Colors
The range of shades available is striking. In the late 1980s, Argyle Diamonds launched a marketing campaign to educate consumers about champagne and cognac diamonds. This program included the introduction of the C1 to C7 color scale. These color categories remain the official color scale for brown diamonds throughout the world today.
C-1 and C-2 Light Champagne
C-3 and C-4 Medium Champagne
C-5 and C-6 Dark Champagne
C-7 Fancy Cognac
Origin
South Africa, Siberia
Argyle Diamond Mine, Australia
This mine is the world's largest producer of natural brown diamonds. Around five billion dollars of champagne and cognac diamond jewelry is sold annually throughout the world, making these jewels easily the most accessible of all natural color diamonds.

Historical Trivia
The world's
largest cut natural diamond
is a dark rich champagne stone, the Golden Jubilee, which possesses a magnificence and history to envy. The Golden Jubilee, 545 carats, was offered to the King of Thailand to celebrate the 50th anniversary of his ascension to the throne. Polishing the stone took no less than three years.
---
Champagne Diamond Engagement Rings by Krikawa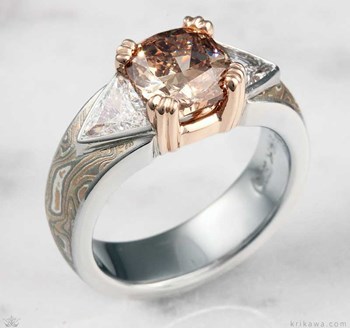 Do you fancy some natural champagne diamonds for your jewelry? Krikawa has featured these fancy color diamonds in many of our unique engagement rings and wedding bands. Consider some accent diamonds graduating in tone. Contrast the hue of champagne diamonds with platinum or palladium, or match the fancy color with rose gold.
---
---
What Diamond Will Warm Up Her Eyes?
Get help designing.
Build your ring in this Quiz
or Meet Your Ring Design Consultants
and prepare yourself for the experience of a lifetime.