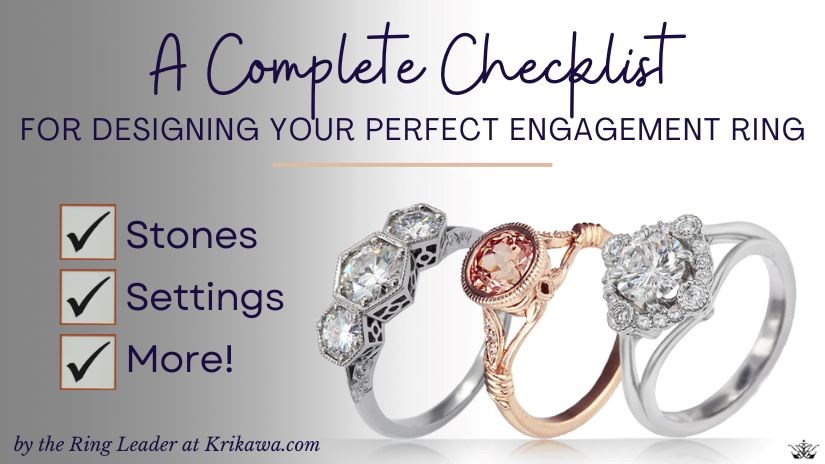 A Complete Checklist for Designing Your Perfect Engagement Ring (and Wedding Ring!)

LISA

Your engagement ring and wedding ring are symbols of eternal love and commitment, cherished jewelry that will forever adorn your fingers. Designing the perfect engagement ring is an exciting journey that allows you to express your unique love story and personal style. To help you navigate this complex process, we have prepared a comprehensive checklist that will guide you in creating the engagement ring of your dreams.

Define Your Budget Goal
Before delving into the creative process, it's essential to establish a budget that suits your financial comfort zone. Setting a clear budget will help you narrow down your options and ensure that your dream ring is within reach without any unnecessary stress. You can also set a budget goal; it might be a reach, but if you have time, you can tuck away money in a jar or in a savings account on a monthly basis. Or, set up a layaway plan.
Commit Your Timeframe
Just like with any other project, it's a good idea to decide when you want to put the ring on the finger, whether it's yours, or your partner's. Then you can know how many months you have to save, and when to contact Krikawa to put down your deposit. It's a good idea to target your deposit date three months ahead of the proposal date so that there's breathing room for finalizing the design and gems.
Gather Inspiration
Begin your design journey by collecting inspiration from various sources. A great place to start is our Ring Quiz! You can also explore our Pinterest Boards, Instagram, and Tiktok videos. On Krikawa.com, after you make an account, you can add your favorites to a collection. That's helpful for your design consultant as well as you! Of course, creating a Pinterest mood board is a great step also. Think about including a picture of your favorite styles, clothing, and activities! A complete visual snapshot of you and your lifestyle is sometimes just the special sauce needed when making some of the decisions.
Choose a Design Style
Engagement rings come in a myriad of styles, from classic solitaires to vintage-inspired designs and contemporary masterpieces. Consider your lifestyle and favorite designers, and align your ring design with your tastes and personality.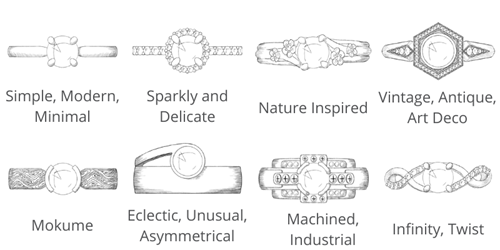 Choose a Body Type
Engagement rings come in different body types, each offering its own distinct look. This is different than the style, as each one of these types can be made in different styles. Solitaire settings feature a single stone as the centerpiece, allowing the stone to take center stage. Three-stone settings symbolize the past, present, and future of your relationship. Halo settings, with a circle of smaller stones surrounding the center stone, create a sparkling and glamorous effect. Halos also can 1) give you a big look without having to invest in a ginormous center stone and 2) a white diamond halo can be just the right accent to set off a beautifully colored center stone.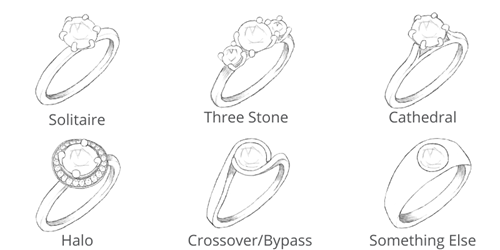 Select the Center Stone and Shape
The center stone is the heart of your engagement ring. Choose between traditional GIA-certified diamonds or explore colored gemstones. Sapphires are a popular choice for engagement rings, as their hardness is rated excellent for everyday wear. They're known for their deep blue hue, yet they also are naturally found in nearly every color of the rainbow.

What size is best for your hand and lifestyle? We have a whole page of charts showing different size stones on a hand.

Consider the origin of your center stone: is it earth-grown or is it lab created? That's a personal preference, as there are benefits to both. Some choose natural, for the earth essence and rarity. Some choose lab created for affordability or responsibility. And still others just want whatever will give them just the right color or just the right choice for the budget.

Then of course, there are many of shapes to choose from, although be aware, not all gemstone types come in all shapes.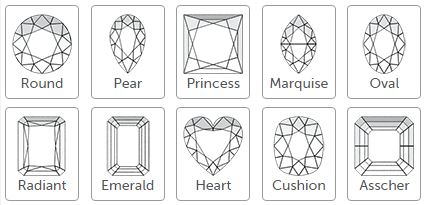 What Center Stone Setting Type is Best for You?
The center stone setting of an engagement ring plays a significant role in its overall appearance and durability. Prong settings, where metal claws hold the stone in place, allow the maximum amount of the stone to be seen, yet are the least durable. Bezel settings, where a metal rim surrounds the stone, offer a sleek and modern look while providing excellent protection. A flush set stone is a modern look and also a great choice for men's engagement rings.

Precious Metal Colors
The choice of metal profoundly impacts the overall look and feel of your ring. Opt for timeless elegance with platinum or white gold, or embrace the warm tones of yellow or rose gold to match your personal style and skin tone. Feeling a little more avant-guard? Two or three metals can enhance the details, and mokume-gane is completely decadent.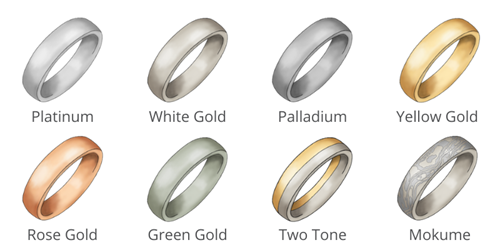 Customize with Accents
At Krikawa, we have a wide array of accent stone choices that you just won't see elsewhere. Accent stones can add a touch of glamour and uniqueness to your engagement ring. Consider using smaller diamonds or colored gemstones as side stones or pave settings to create a dazzling and personalized effect.

The Skin: Choosing Your Finish and Details
From high polish to decorative hand engraving, a sand-blasted finish to our "machinist," there are many different textures and finishes that can enhance the chosen style of your ring.
Opt for Personalization
Incorporate meaningful elements into your design to make the ring truly special. Engrave a heartfelt message, add birthstones, or incorporate motifs, symbols, or graphics that hold sentimental value, making the ring a reflection of your love story. Note that the band needs to be wide enough to accommodate these details; very narrow bands don't work well for details on the inside.


Think Long-Term
Your engagement ring is a piece of jewelry you'll cherish for a lifetime. Consider its practicality and durability to ensure it can withstand daily wear and various activities. The setting and metal should be robust, offering both beauty and strength.
Breathe
Designing your dream engagement ring is a journey filled with emotion, creativity, and love. With this checklist to help you, and a passionate Krikawa Design Consultant as your guide, you can confidently embark on this delightful adventure, crafting a ring that symbolizes the timeless bond between you and your partner. Remember, your engagement ring is not just a piece of jewelry; it's a testament to the everlasting love and commitment you share, a treasure that will forever hold a place in your heart. So, let your imagination soar and let the magic of love guide you as you create the perfect engagement ring that will stand the test of time.

Printable Engagement Ring Design Checklist
Here's a printable checklist for your custom ring project! It works as a great design guide, helping you think through the different options. Hoping your partner will propose? Print it out and leave it laying about ;).
To print: right-click on the image and choose Open in new tab. Go to that tab, and hit ctrl-p. Be sure the "scale" settings are default. Print both pages, and voila!
Ready to schedule your complimentary chat with a Krikawa design consultant?
Book a virtual appointment
now.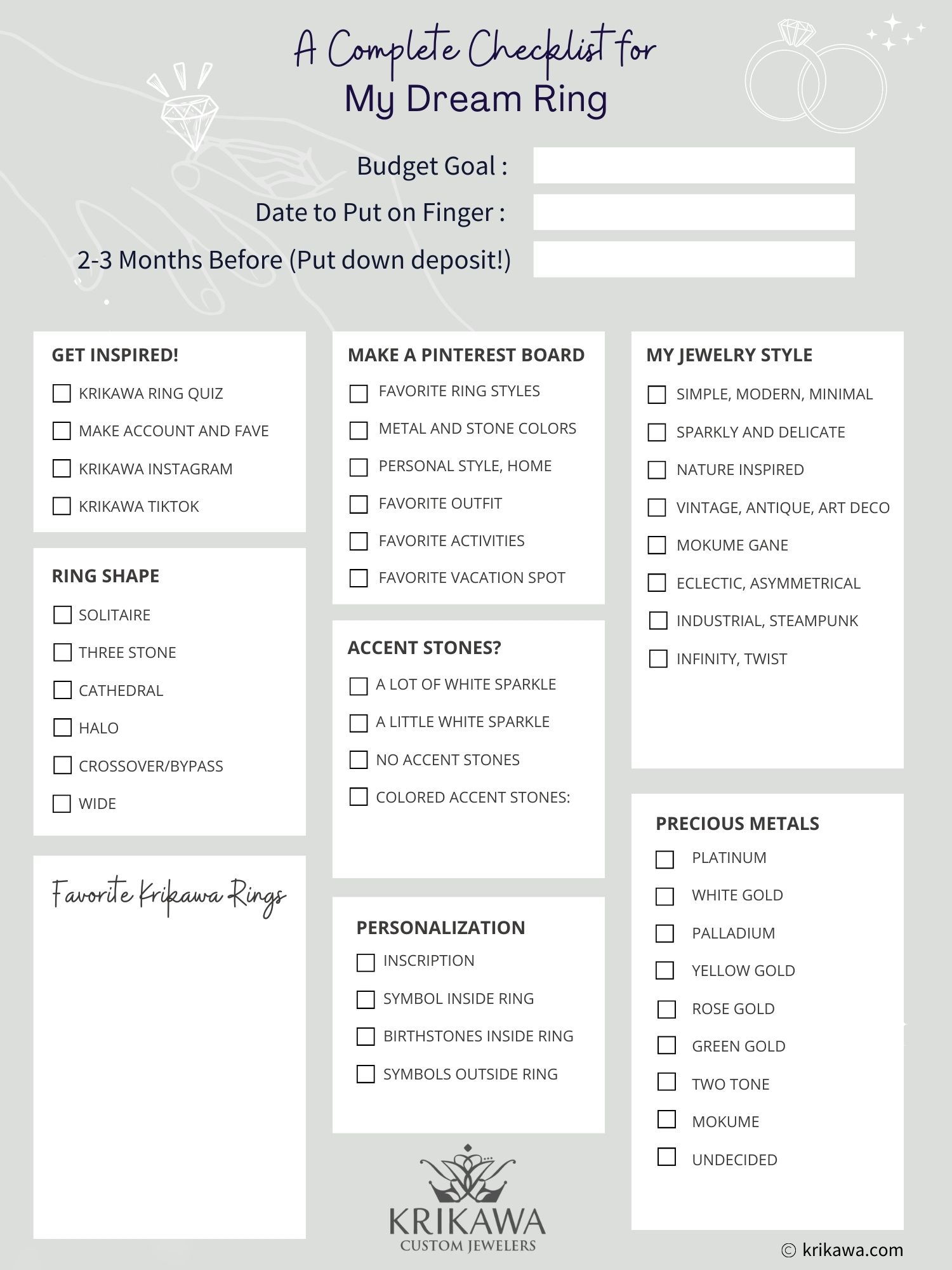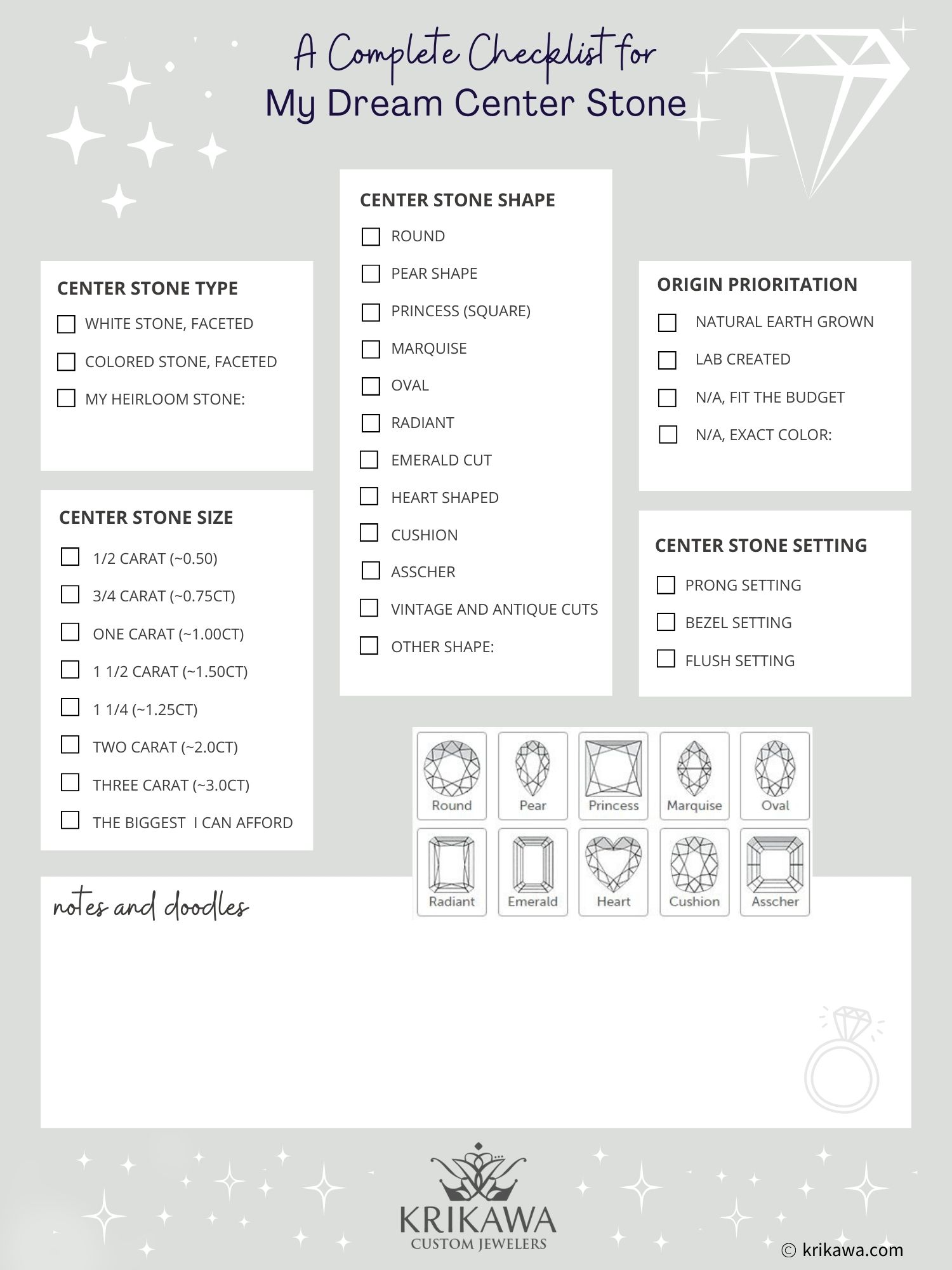 Look Around