Determining Your Ring Size
Our Unique, Over-The-Top Method
Ring Size Is Important!
We want your custom ring to fit just as much as you do. Here at Krikawa, we go a little over the top to get the very best size possible.
Because your ring will fit differently at various times of the day, the month and the year, we are happy to offer a complimentary and frankly unprecedented finger sizing method that is more accurate than going to a jewelry store and trying on rings. We have determined that clients sized in this way rarely need their rings re-sized, as opposed to clients who have selected their size in a single sitting.
Once you place your order, we will ship our calibrated silver bands that have the same width, thickness, size, and comfort fitting of your final ring.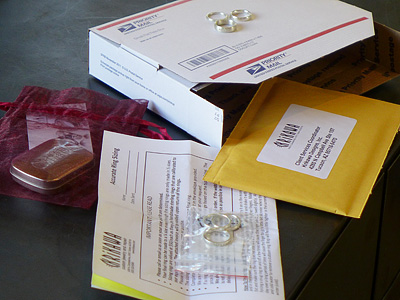 This service is
complimentary
after you have a deposit on file and you live in the US (see international, below). We even include return packaging. All you have to do is drop it in a mailbox when you are done! Please inquire about international charges.
Because hands tend to swell and shrink, wear these through a day or a couple of days to get the best estimate of your ring size, and to ensure that the width feels comfortable.
If your final ring is delivered in a size other than what you ordered, we will resize the band at no additional charge.
If you decline our free sizing kit, and then need your ring resized, charges will apply. Consider investing in our
5 Year Extended Service Plan
which includes a free resizing and covers much much more!
INTERNATIONAL:
We can ship sizing rings to Canada via FedEx International for a charge of $160. We will prepare needed customs documentation and include return packaging, to make it easy for you to return the package. Please inquire for shipping costs to other countries.

What If You Have NO Idea What Size You Are To Start With?
Request our plastic multi-sizer! Simply fill out
this form
with your mailing address and we'll mail you a multi-sizer. That way, when you place your order, we'll have a starting point for your sizing rings.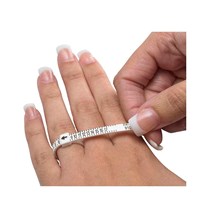 Alternatively, you could print out
this ring sizer chart
for an estimate. If you use this form, make sure you print it without scaling, cut out the strip exactly, and pull it tight around the finger. There is a much greater margin for error on this method than the multi-sizer above!
When you place your order, we can start by sending you a plastic multi-sizer. Once you've got an idea of your ring size with this plasic ring, then we'll send our calibrated sizing ring kit.

6 Ideas To Try If
You Don't Know The Ring Size!
Take a ring that your partner wears on the LEFT HAND ring finger to a jeweler to find out what size it is. Report to us the size and the width of that ring. Keep in mind that top heavy rings will want to be a little tight, not floppy.
Take a ring that she/he wears on the RIGHT HAND ring finger to a jeweler to find out what size it is. You'll need to adjustment the ring size to the engagement ring finger, depending on whether your partner is righ or left handed. (This is not an exact science, as there is no standard differential between dominant and non-dominant hands and their finger sizes. At best, it's still a guess, it will be close.)
Print out this ring sizer chart and use it to measure size of existing ring using ring circles, or cut out paper and measure the finger when he/she is sleeping (room for error: 1/2-1 size).
Ask her/his mother, sister or friend.
Take her/his ring finger ring and put it on one of your fingers, if you can't steal it for a day. Mark where it goes up to with a pen, then order a plastic multi-sizer from us and find the ring size that goes up to the same spot.
Take her/his ring finger ring and press it into clay/wax/sculpey/art tack and send it to us.
Because weight, height and body type don't necessarily correspond to ring size, it is difficult to guess based on these stats. If your ring is a complete surprise, consider investing in our
5 Year Extended Service Plan
that includes a free resizing!
Disclaimer: W
e defer to your final answer for the ring size. Ring resizing is subject to additional charge, price dependent upon a few factors (metal type, up or down, etc).