Raw Diamonds
Raw and Uncut Diamonds for Engagement Rings
Natural diamonds are found in many unique and unusual shapes. From very geometric forms to raw chunks, the raw diamond makes for a very interesting engagement ring.

Naturally colored diamond crystals are an organic and one-of-a-kind alternative to polished and cut white diamonds. Stand out from other brides with a custom raw or rose-cut diamond engagement ring!

They have been used in jewelry throughout history, and are also a great choice for men's rings. Natural raw diamonds come in a variety of natural, fancy colors and shapes as you can see on this page.
---
Raw Diamond Crystals
Raw Diamond Octahedrons
Our favorite of the raw diamonds for engagement rings are the naturally occurring diamond crystal octahedron. This extraordinary stone grows in many different geometric shapes; this is truly a unique gem of the earth! This is the most prevalent raw diamond shape.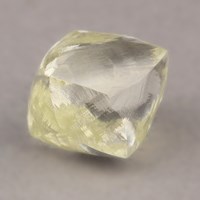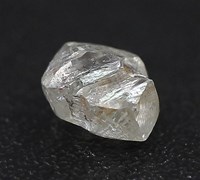 Raw Diamond Balls (Ballas or Spheres)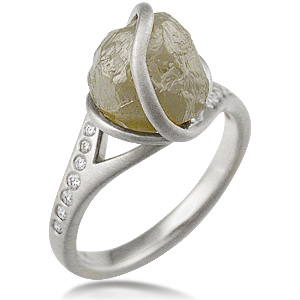 Raw diamonds come in irregular shapes, like the rough spheres in our
Diamond Orbit Engagement Ring
. These diamond "ballas," as they are called, are found naturally in that shape!
The surface of a rough sphere can be a soft matte, like the image on the left, or a sparkly, glass like surface, such as seen on the ring to the right. These are rare and strange crystals, and can be difficult to find!
Natural Raw Diamond Cubes


Can you believe that diamonds are found in spheres and also cubes? What an amazing stone! Natural rough diamond cube.

As fascinating as the octahedron is, the cube is even more of a wonder. In an engagement ring or pendant, it would certainly be a conversation piece.
Natural Raw Diamond Maccle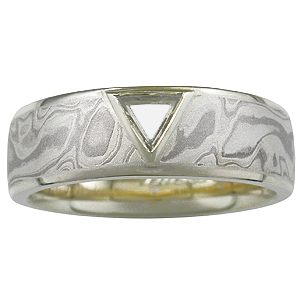 A natural rough diamond maccle is a flat triangular-shaped crystal. It grows naturally in this shape, when the diamond grows in a double crystal. Diamond macles are naturally triangular! They are typically left unfaceted, and set in their natural form. This is a unique choice for a men's wedding band, for a little bling without all the sparkle. It's shown here in this Winter mokume gane wedding band.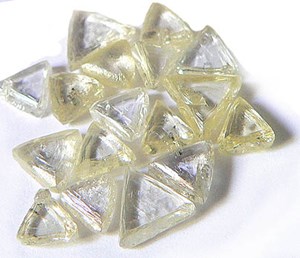 Natural Diamond Slices
Including a diamond slice in the raw diamond category is cheating a little, since there is some cutting involved. They still have a very raw look, however.
Diamond slices are available in lots of different colors and sizes. Each one is completely unique! Some are more transparent than others. The face of the diamond slice can have just a few large facets, or it might be covered in small, checkerboard type facets. We like the more faceted of the slices; it give the diamond some a nice sparkle! We can create custom rings with a diamond slice!
---
---
What Diamond Will Sparkle in Her Eyes?
Get help designing.
Make your alternate diamond selections in this Quiz
or
Meet Your Ring Design Consultants
and prepare yourself for the experience of a lifetime.