Cushion Diamond Engagement Rings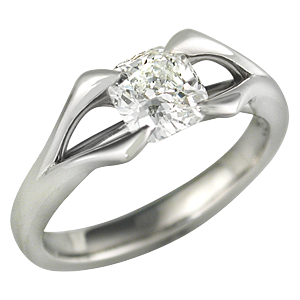 One of the oldest and most recognizable diamond shapes is the cushion. Three of the world's most famous diamonds are cushions: the 45.5 carat Hope Diamond, the 140.5 carat Regent Diamond and the 128.5 carat Yellow Tiffany Diamond.
Cushions are pillow-shaped; their corners are rounded and their dimensions can be square or rectangular. Cushion-shaped diamonds come in a variety of cuts. The standard cushion diamond today is the modified brilliant cut. Older cushion cuts seen in vintage engagement rings include the Antique Cut.
Pros to Cushion Diamonds
Most of our engagement ring designs, from modern to vintage-style, can accommodate the cushion cut.
The cushion feels classic, but is a very popular shape right now, often seen on the hands of celebrities.

Cons to Cushion Diamonds
Cushion-shaped diamonds exhibit more color than round diamonds. For a white cushion diamond, look for G or better color. H is borderline.