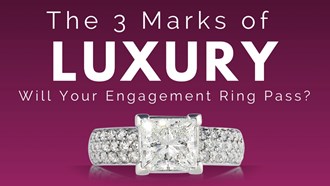 The 3 Marks of Luxury: Will Your Engagement Ring Pass?
September 20, 2017
It catches your eye as she walks by; is that ring real? We've all seen the celebrity engagement ring with the supersized stone, and the flurry of look a-likes that flood the market afterwards. What makes the original so luxurious, and the imitation just that; the ugly stepsister?
There's more to a
luxury engagement ring
than meets the eye. If you really want to feel that luxurious supernatural hum when you look at your engagement ring, or if you truly hope for your beloved to swoon every time she gazes at the ring you engaged her with, consider these three things.
see the full article