September 12, 2015-November 14, 2015
Miracles & Milagros
This group exhibition features new art and jewelry inspired by the concept of the "miracle" and the spirituality of the Southwest. It showcases over 30 local and national artists. Highlights include sculpture by renowned Mexican artist Quetzally Hernandez Coronado, painting by Los Angeles folk surrealist Sarah Stone, and amulets by the Old Pueblo's Erika Weston. This show is our homage to our community's Mexican roots, and coincides with the beloved, annual All Souls Procession. On view through November 14th.

Pictured: Amulet for Awareness, Compassion & Humility by Erika Weston
June 14, 2015
TUCSON WEDDINGS & WINE FESTIVAL
We return as a vendor to this bridal fair in the Old Pueblo, hosted by KRQ and Marriott University Park Hotel. If you're a bride, come and enter to win a full wedding package (honeymoon included)!
June 13, 2015
Jodi Bombardier Trunk Show
Come see Jodi's handcrafted leather bracelets! Find a locally-made gift for Father's Day or graduation. The men's bracelets pictured are priced at $50. This trunk show takes place during the fun Downtown Second Saturdays, so plan on grabbing a bite and bringing your friends!

June 7, 2015
Pride Guide Tucson Wedding & Honeymoon Expo
This is the first expo in Tucson hosted by this resourceful LGBT magazine! We were one of the many gay-friendly vendors at the JW Marriott Tucson Starr Pass Resort and Spa. Prizes were given out all day!
May 9, 2015
Ingepani Trunk Show
A trunk show during Downtown Second Saturdays for jewelry handcrafted in Bali. These affordable sterilng silver pieces feature large gemstone pendants and poison rings that hold your treasures.
April 11, 2015
Enlightenment Opening Reception
Enlightenment: Works Made with Love, Light and Laughter opened during Downtown Tucson's Second Saturdays, making the evening quite festive! Our second exhibition included some out-of-state artists, as well as one all the way from the Czech Republic! The show of paintings, sculpture, jewelry and more runs all summer, through August 29th.
March 21, 2015
Ladies Night!
We had a trunk show of gorgeous tanzanite jewelry by Kaali Designs, while serving Violette Royale champagne cocktails, and having a drawing for tanzanite earrings! We also hosted Skinjectables Botox Bar, a Trish McEvoy makeup representative, TK Hair Studios and CAbi clothing.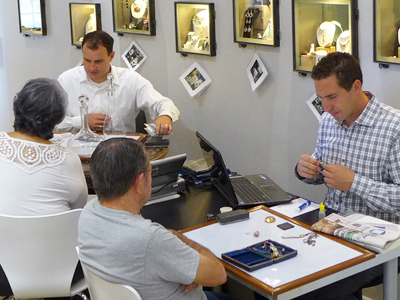 February 10-13th 2015
Great Estate Roadshow
National Rarities, Inc. returns to Krikawa to buy your unwanted valuables and antiques! Walk-in all day to have the team from National Rarities, Inc. give you a free appraisal on your treasures.
December 13, 2014
Laura Gibson Trunk Show
For holiday shoppers during Downtown Second Saturdays, we hosted a trunk show for renowned Tucson jewelry designer Laura Gibson. She is known for colorful, vibrant gemstone necklaces and earrings.
November 22, 2014
Local Flavors Opening Celebration
Krikawa Jewelry Designs re-located to Downtown Tucson and re-opened as Krikawa Jewelry Art Gallery! The inaugural exhibition featured over thirty local artists. Our studio was packed wall-to-wall with guests and artwork in every medium! Music was provided by Chris Black, Jeff Grubic and Benjamin DeGain, and wine was poured by Callaghan Vineyards.
June 22,2014
TUCSON WEDDINGS & WINE FESTIVAL
Krikawa is one of the jewelry vendors at this wedding expo at Marriott University Park Hotel. Free admission with a food bank donation!
May 16, 2014
Jewelry Box Blues Party
Join us for an evening full of drawings, refreshments, snacks. Win an iPad and gift certificates to Bodega and Alfonso Olive Oil. Want to experience Project Runway for yourself? You can bring in a few pieces of old jewelry to the event for a free fast paced design session, and discover how to turn your old jewels into jewelry you'll love to wear!
March 8-9, 2014
Body and Sol Expo
As part of the Body and Sol Productions Women's Expo 2014, Lisa Krikawa, founder and designer of Krikawa Jewelry Designs, gave a presentation on different creative ways to transforming outdated gold jewelry or heirloom treasures into pieces that work with your current wardrobe or fashion!

February, 2014, August and November 2013
The Great Estate Roadshow
A few times a year we open our shop to National Rarities, Inc., an estate buying company out of St. Louis, MO. These friendly appraisers offer free appraisals and their expert knowledge of watches, autographs, diamond jewelry and more! They'll even buy your treasures at a fair price!
April 28, 2013
The Ultimate Queer Wedding Expo
We were the jewelry vendor at this LGBTQ wedding and commitment ceremony expo, hosted by Fluxx Studio. Same-sex couples had the opportunity to learn about our studio, view a sample of rings, schedule design appointments. We also treated attendees to Ring Pops!
November 9, 2012-January 31, 2013
Handmade in Tucson: Work By Local Jewelry Artisans Exhibition
We hosted our first juried exhibition of Tucson jewelry artists' work. The work demonstrated an eclectic variety of styles, as well as materials, from gold, sterling, gemstones, and pearls, to pewter, glass, recycled tin, and wood. Three of Krikawa's own jewelers displayed their work.

July 1, 2011
Fair Trade Exhibition
This showroom exhibition featured fair trade gemstones and jewelry from exotic locales around the world.

Fair Trade contributes to sustainable development by offering better trading conditions to, and securing the rights of, marginalized producers and workers. We are proud to support the development of an ethical and sustainable supply chain in colored gemstones, and help to make a difference in the world, all while experiencing the joy and pleasure that objects of great beauty bring!
January 13-16, 2011
Lisa in Pick-Smith Booth at NAMM Show
The National Association of Music Merchants is a non-profit organization supporting the music product industry. The 2011 trade show was held at the Anaheim Convention Center in California. Lisa Krikawa attended the show as an exhibitor with Pick-Smith. Krikawa Jewelry Designs has been partnering with Pick-Smith to create the FLiP! guitar pick holder. This patented product allows the guitar player the flexibility of easily switching between strumming and fingerpicking through an instant spring-loaded action. Krikawa handcrafts the precious metal FLiP!s. You can learn more about the FLiP! on our website.
December 4, 2010
Zoe Steele Trunk Show
Krikawa Jewelry Designs is hosting its first trunk show with Zoe Steele Jewelry! Zoe has been creating fine gemstone beaded and wire work jewelry for over a decade. With stunning gemstones she creates unique, one-of-a-kind jewelry that is beautiful, sparkly, and extremely versatile.

Pretty and elegant, you can wear this jewelry with jeans or gowns and feel like a queen all day long. Always an excellent choice for a gift, but you may also consider jazzing up your holiday wardrobe with a spectacular accessory by Zoe.
December 4, 2010
St. Philip's Plaza Holiday Express
St. Philip's Plaza Holiday Express & Food Drive, 4-8 PM only! This is a great time to check out the fine boutiques and galleries here at the plaza. Enjoy special savings and refreshments by many of the Plaza merchants. Krikawa will host a trunk show for Zoe Steele Jewelry and display our new Arizona Gemstone Jewelry line. The community food bank will be accepting non-perishable food items. You can also help decorate the Food Bank tree through small donations to the food bank. There will be a gift wrapping table set up as well as hot apple cider. Shop the plaza to the sound of music while carolers sing through the evening.
November 13-14, 2010
Open Studio
Tucson Pima Arts Council organizes an annual Open Studio Tour where over two hundred local artists open their doors to the community. Krikawa Jewelry Designs participated this year by holding two demonstrations: mokume gane patterning and repousse, and artistic gemstone faceting.
November 12, 2010
Gem Tasting
Krikawa had the ultimate happy hour with Larry Woods: award-winning gemstone artist! Guests enjoyed cocktails and hors d'œuvres while watching Larry facet a raw aquamarine (see left). Larry also discussed his gemstone adventures during an interactive round table. He passed around many unique cut gem samples . . . sunstone, star sapphire, spinel, tourmaline, and topaz to name just a few. On the left, you can see Lisa unwrapping a color change stone under a light. Guests were also able to purchase loose gemstones and jewelry with mounted stones.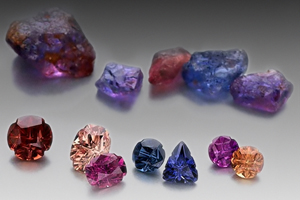 For more information about Larry Woods, also visit Jewels from the Woods.

February 4, 2010
Gem Show Party
We hosted a fabulous evening of fine food and entertainment during the Gem Show week. Local performance group Flam Chen dazzled guests with pyrotechnics and acrobatics, while Sergio Mendoza Y La Orkesta added some Latin rhythm.