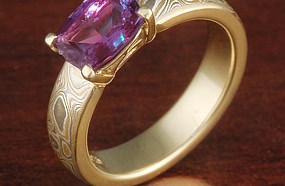 Trend to Watch: Birthstones in Engagement Rings
June 03, 2015
birthstone
should be relegated to earrings or a pendant? Think again. More couples are opting to use these stones in their
engagement rings
-- and not just to accent the diamond. In fact, birthstones are becoming the new center stone of choice for some.
A couple's reasons for eschewing diamonds are as varied as the birthstone they use. Some women want a ring that's as unique as they are, while others are vehemently against any possibility of wearing a so-called blood diamond. (You can read more about ethically mined stones
here
.) Then there's the matter of price: Some birthstones are a fraction of the cost of a diamond, meaning you can get a much larger stone for much less money.
see the full article
Think your