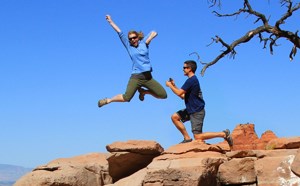 Surprise Engagement Ring? Read This First!
June 12, 2015
The Foolproof Way to Design a Surprise Engagement Ring She'll Love
Considering all the time, effort and expense that goes into creating the perfect
engagement ring
, is it any wonder so many men want some element of surprise? It elevates their all-important question into a sweeping, romantic gesture -- not to mention, most women like it when their guy picks out the ring.
Of course, just how much surprise depends on the couple. In our 15 years of creating custom rings, we've seen it all -- from men who designed their intended's ring entirely on their own to ones who include their partners in the decision-making process. (We even had someone propose in our shop!) There's no one right way to go about it, but there are some things you can do to help ensure your surprise ring is well-received.
see the full article